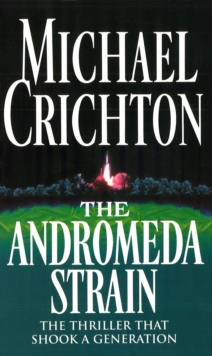 The Andromeda Strain
Paperback
Description
Five prominent biophysicists give the United States government an urgent warning: sterilisation procedures for returning space probes may be inadequate to guarantee uncontaminated re-entry to the atmosphere.
Two years later, Project Scoop sends seventeen satellites into the fringes of space in order to 'collect organisms and dust for study'.
Then a probe falls to the earth, landing in a desolate area of northeastern Arizona.
A little while later, in the nearby town of Piedmont, bodies are discovered heaped and flung across the ground, faces locked in frozen surprise.
But the terror has only just begun, because when they try to find the cause of death, the scientists don't realise just what kind of unearthly danger they are dealing with... Brilliantly filmed by Robert Wise in 1971, The Andromeda Strain was the first book to introduce Michael Crichton's audacious combination of believable plots and white-knuckled excitement to a wide audience.
Information
Format: Paperback
Pages: 304 pages
Publisher: Cornerstone
Publication Date: 01/10/1995
Category: Science fiction
ISBN: 9780099319511
Free Home Delivery
on all orders
Pick up orders
from local bookshops
Reviews
Showing 1 - 2 of 2 reviews.
Review by cathepsut
16/06/2015
I read this a long time ago. The first Crichton novel I read. First came the movie, which I loved, and then the book, which I also liked very much. The movie is a very good adaptation.Isolated scientific research station, far underground. Something goes wrong, people die, the heroes have to struggle against the odds to save the world. The usual :)
Review by MikePearce
16/06/2015
I dove straight into this book without reading the "First Published..." etc like I normally do. So, I was a bit confused when he started talking about computer screens you touch with a light pen! This book hasn't aged well in terms of technology, but, if you can get past that and transpose some of the old stuff with new stuff you've seen in holidaywood or newer books, it's a cracking read. I did, however, feel that the end was a *little* bit of a let down. I think it was trying for a War of the Worlds twist at the end, but it just didn't seem worth it.Read the book as it's a good crack, but don't be surprised if the end creeps up on you quickly and then goes out with a whimper!