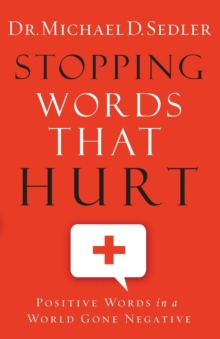 Stopping Words That Hurt : Positive Words in a World Gone Negative
Paperback / softback
Description
Expert Communication Advice from a Pastor and Teacher Communication expert Dr. Michael D. Sedler offers groundbreaking, practical strategies for identifying, counteracting, and responding biblically to gossip, criticism, and negative words, and learning to speak words that bring life.
Through both biblical and modern-day examples, Sedler reveals how profoundly words can hurt--or heal.
This book offers multiple tools to reveal, step by step, the impact of verbal contamination; how to identify and counteract it; why silence in the face of negativity isn't enough; and how parents, leaders, teachers, spouses, and friends can build one another up by choosing life-giving words.
He also shows how to -discern why people relay destructive gossip -identify a negative conversation and counteract it-experience cleansing from conversational pollution-find freedom and reconciliation with those who have spoken harm
Information
Format: Paperback / softback
Pages: 224 pages
Publisher: Baker Publishing Group
Publication Date: 23/08/2013
Category: Christian life & practice
ISBN: 9780800795474
Also by Michael D. Sedler