The Old Testament: A Very Short Introduction
Paperback
Description
Eminent biblical scholar Michael D. Coogan offers here a wide-ranging and stimulating exploration of the Old Testament, illuminating its importance as history, literature, and sacred text.
Coogan explains the differences between the Bible of Jewish tradition (the "Hebrew Bible") and the Old Testament of Christianity, and also examines the different contents of the Bibles used by Roman Catholics, Eastern Orthodox Christians, and Protestants.
He looks at the rise of modern biblical scholarship as well as the recovery of ancient Near Eastern literatures and their significance for biblical interpretation.
One particularly interesting section examines three principal characters of the Old Testament-Abraham, Deborah, and David-illuminating important themes connected with them, such as Abraham and covenant and David as poet and warrior.
Coogan explores the use of invented dialogue and historical fiction in the Old Testament, the presence of mythic elements in apparently historical accounts, and the relationship of ancient Israelite myths to those of their neighbors. The book considers the Old Testament's idea of divine justice, especially in Ecclesiastes and Job, and looks at notions of the afterlife in the ancient Near East and in ancient Israel.
Coogan highlights the significance of the history and literature of the Old Testament and describes how non-biblical evidence, such as archaeological data and texts, has placed the Old Testament in a larger and more illuminating context. The book also discusses law and ritual in the Bible as well as the biblical understandings of prophecy.
Here then is a marvelous overview of one of the great pillars of Western religion and culture, a book whose significance has endured for thousands of years and which remains vitally important today for Jews, Christians, and Muslims worldwide.
ABOUT THE SERIES: The Very Short Introductions series from Oxford University Press contains hundreds of titles in almost every subject area.
These pocket-sized books are the perfect way to get ahead in a new subject quickly.
Our expert authors combine facts, analysis, perspective, new ideas, and enthusiasm to make interesting and challenging topics highly readable.
Information
Format: Paperback
Pages: 160 pages, 9 halftones
Publisher: Oxford University Press Inc
Publication Date: 15/03/2008
Category: History of religion
ISBN: 9780195305050
Free Home Delivery
on all orders
Pick up orders
from local bookshops
Reviews
Showing 1 - 2 of 2 reviews.
Review by pixelette
16/06/2015
These books are in a brilliant format and I would like to read the entire series. Clear and well written.
Review by stillatim
16/06/2015

Re-review: I'm flicking back through this (April 25, 2013), and I have no idea what I was talking about. This is really solid, and I'm happy to recommend it.

As with many in the VSI series, this book suffers from an identity crisis. It's not really an introduction to the OT. More like VSI to the cultural context of the Tanakh: the baseline here is history. What can these old books tell us about the times in which they were written? So there's not much space (some, but not much) for Tanakh-as-literary-artifact, or philosophical-document or, heaven forbid, theological document. The mythological aspects are important because of the way they're tied to history, and because they're like other myths; Coogan spends no time discussing how they're different from other myths and why those differences might be important. The legal codes aren't ethical guidelines enmeshed in a detailed narrative; they're just law codes, like Hammurapi's (side note: this is useful for learning how people in the academy spell all those old names these days. See also Nebuchadrezzar, which is waaaaaaaaaaaaay cooler than Nebuchadnezzar, I think). I found that kind of thing very frustrating. No doubt it's good for people who actually think the Christian OT was written by Moses to be informed, as gently as possible, that that is absolutely impossible; or to have the many, many inconsistencies in the narratives pointed out to them, and so on. If you're already willing to treat the OT as what it is, a text produced in human history; but you think there's something very important about it in ethical terms, and that that can't/shouldn't be treated as a mere historical fact... you might want to look elsewhere. Oh, and as I said, *not* an intro to the OT: you'd barely know Christianity happened if you read this book. This is about the Tanakh. Which is lovely, but not what the title of this book suggests.
Also by Michael David Coogan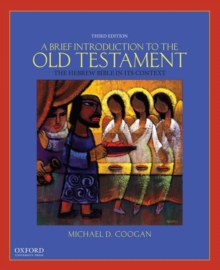 Also in the Very Short Introductions series | View all