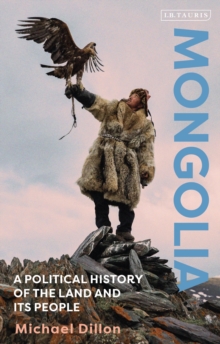 Mongolia : The Shadow Land
Hardback
Description
Since declaring independence from China in 1911, Mongolia has suffered from repression, turbulent Soviet rule, dictatorships and corruption.
However, in recent decades Mongolia has begun to build a parliamentary democracy which can truly claim to be representative and has taken action to protect the way of life of the Steppes people.
But its immediate future is fragile, located between Russia and China it has always sat in the shadow of two vast superpowers.
China is expanding economically into the region, buying up mining interests and exploiting vast natural resources, while Russia is keen to use Mongolia as a trade corridor to supply natural gas to Asia, and talks of an economic corridor along the Silk Road are under way.
Over the next decades Mongolia will emerge as a key player in a region whose future is of global importance.
Here, Michael Dillon draws on his expertise in Central Asian history and the history of China to present a necessary, passionate and authoritative account of Mongolia.
Using local sources, he adeptly traces the nation's history and illuminates the profound effect of the past on the development of Mongolia.
This is indispensable reading for anyone looking to unravel the mysteries of an often overlooked but vitally important piece in the complex and shifting modern Asian world.
Information
Format: Hardback
Pages: 256 pages
Publisher: Bloomsbury Publishing PLC
Publication Date: 28/11/2019
Category: Regional geography
ISBN: 9781784535490