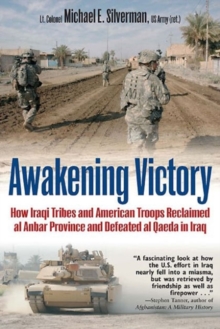 Awakening Victory : How Iraqi Tribes and American Troops Reclaimed Al Anbar and Defeated Al-Qaeda in Iraq
Paperback / softback
Description
In August 2006, many senior U.S. officials thought America had lost the war in Iraq, as the senior U.S.
Marine Corps intelligence officer there wrote that control of al Anbar Province, the seat of the raging Sunni insurgency, was irrevocably lost to the insurgents.
During that time, there were over 100 attacks per day against U.S. military and Iraqi forces in al Anbar, and al Qaeda in Iraq had planted their flag in the provincial capital, Ramadi, declaring it the capital of their new "Islamic State of Iraq."In January 2007, as a spearhead of the newly decided"Surge," the 3rd Battalion, 69th Armored Regiment deployed to Ramadi as part of the 3rd Infantry Division, the first regular Army unit to deploy to Iraq for a third time. The battalion and its parent brigade went to work in a campaign that will be seen as the D-Day of the Global War on Terror. Starting by clearing al Qaeda from the city of Ramadi and replacing them with legitimate locally raised and trained Iraqi police-while simultaneously fostering the tribal movement known as the "Awakening Councils"-the brigade began to have tremendous success. By April 2007, attacks within Ramadi went from twenty per day to one or two per week. By mid-summer 2007, attacks in the entire province were down 90 percent from 2006. Furthermore, the "Awakening" had swept through the rest of Iraq, leading to the best security situation seen since 2003. The 3rd Battalion, 69th Armored, was the only battalion to participate in this campaign from start to finish. Moreover, many of the US successes came directly from this unit's work. Awakening Victory tells the story of this incredible campaign through the eyes of the commander of the 3rd Battalion, who was right in the thick of the fight.
The book also provides a description of the Iraqi insurgency-particularly al Qaeda in Iraq-that offers the depth and texture which are currently lacking in most Americans' perceptions of the war. It describes the battalion's actions, including incidents previously unknown to the public, but it is not merely another blood-and-guts war story. The author uses the actions of his battalion to describe a paradigm shift that occurred, while in a totally foreign culture, yet allowed for a move from a war of bombs and bullets to one of partnership and ideas.
Information
Format: Paperback / softback
Pages: 352 pages, 16 pages illustrations
Publisher: Casemate Publishers
Publication Date: 01/04/2015
Category: Middle Eastern history
ISBN: 9781612000978
Free Home Delivery
on all orders
Pick up orders
from local bookshops
Also by Michael E. Silverman