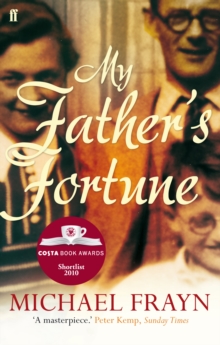 My Father's Fortune : A Life
Paperback
Description
'An unknown place.' This was what Michael Frayn's children called the shadowy landscape of the past from which their family had emerged.
Shortlisted for the Costa Book Awards, My Father's Fortune sets out to rediscover that lost land before all trace of it finally disappears beyond recall.
As Frayn tries to see it through the eyes of his parents and the others who shaped his life, he comes to realise how little he ever knew or understood about them. This is above all the story of his father, the quick-witted boy from a poor and struggling family, who overcame disadvantages and shouldered many burdens to make a go of his life; who found happiness, had it snatched away from him, and in the end, after many difficulties, perhaps found it again.
Father and son were in some ways incredibly alike, in others ridiculously different; and the journey back down the corridors of time is sometimes comic, sometimes painful, as Michael Frayn comes to see how much he has inherited from his father and makes one or two surprising discoveries along the way.
Michael Frayn is the celebrated author of fifteen plays including Noises Off, Copenhagen and Afterlife. His bestselling novels include Headlong, which was shortlisted for the Man Booker Prize, Spies, which won the Whitbread Best Novel Award and Skios, which was longlisted for the Man Booker Prize.
Information
Format: Paperback
Pages: 272 pages
Publisher: Faber & Faber
Publication Date: 01/05/2011
Category: Autobiography: literary
ISBN: 9780571270590
Other Formats
Hardback from £12.45
EPUB from £6.39
Free Home Delivery
on all orders
Pick up orders
from local bookshops
Reviews
Showing 1 - 1 of 1 reviews.
Review by Beakif
16/06/2015
In trying to review all the books I read this year, so far, my strategy has been to write while the impressions the book leaves are fresh in my mind. This time though, I've had to wait almost a week, and consult the notes I made as soon as I put the book down. It just didn't give me a complete sense of anything except frustration, and I was desperately hoping a more positive view would emerge if I waited.Frayn sets out to tell the reader, in no uncertain terms, that the book is about his father. About his family, and his past, and the desire of his daughter to understand her heritage and traits within the context of her antecedents. So far, so good. And the first section, where Frayn describes his grandparents and the conjectures he has made about their lives will chime with any family historian. I found myself wishing he spent more time on this section the more I read, though.What disappointed me, was the frequency with which the book tried to be something noble, but simply felt self-indulgent. Frayn insists that the book is about his Father. Fine. Great. Why is it that almost the entire book is about the son, then? Frayn Snr had two children, and yet his daughter barely features in the narrative, other than when it is mentioned that Michael Frayn was a Mummy's boy, and his sister a Daddy's girl. If that was the case, then why is there so little written about her? Even if she and her brother are not close, it seems odd that he should try and write her out of his Father's story. The incredibly sad influence this closeness to her father may have had to the end of her life is the only direct link which is drawn.The part that struck me most though, was the contrast between the descriptions of grief when Frayn's parents die. I don't know if the contrast was written as a clever devise, representing the young Frayn and the more mature Frayn, but it was marked. The chapter which deals with the death of his mother is utterly heartbreaking. It's one of the best descriptions of the emptiness of grief that I've ever read. Her absence is all consuming, and Frayn doesn't shy away from that. When his Father dies, that Father who is supposed to be central to the book, it is accompanied by a very matter of fact description of the drawing up of his will and the division of what estate he had. Somehow, it also feels empty, but in a completely different way.All in all, this does not feel like a biography of Tom Frayn. This feels like the first section of Michael Frayn's AUTObiography. Building it around his Father feels like a way to limit himself, although the extensive descriptions and quotations of his teenage poetry draw even that theory into question. The fact is, that Frayn Snr and Jnr are good storytellers. As such, I would have expected more stories and less minute contextual detail. The lack of surviving relations should have given Frayn free reign to exaggerate, even imagine, the facts, as he admits he did in the past. At one point, he is clearly trying to write an ineffectual apology to a school friend for his conduct, which has absolutely nothing to do with Frayn Snr.In summary, I felt there was a certain reticence in discussing his Father, and all too willing a discussion of his own flaws and triumphs. It is a readable, pleasant little book, but one that has perhaps been given a slightly inaccurate contextual slant. What is Frayn's Father's Fortune? I came away with the overwhelming impression that it may have been to have his son in his life.