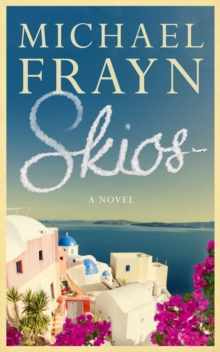 Description
On the sunlit Greek island of Skios, the Fred Toppler Foundation's annual lecture is to be given by Dr Norman Wilfred, the world-famous authority on the scientific organisation of science.
He turns out to be surprisingly young and charming - not at all the intimidating figure they had been expecting.
The Foundation's guests are soon eating out of his hand.
So, even sooner, is Nikki, the attractive and efficient organiser.
Meanwhile, in a remote villa at the other end of the island, Nikki's old school-friend Georgie waits for the notorious chancer she has rashly agreed to go on holiday with, and who has only too characteristically failed to turn up.
Trapped in the villa with her, by an unfortunate chain of misadventure, is a balding old gent called Dr Norman Wilfred, who has lost his whereabouts, his luggage, his temper and increasingly all normal sense of reality - everything he possesses apart from the flyblown text of a well-travelled lecture on the scientific organisation of science...
Information
Format: Hardback
Pages: 288 pages
Publisher: Faber & Faber
Publication Date: 03/05/2012
ISBN: 9780571281411
Other Formats
Paperback from £6.35
EPUB from £6.39
Free Home Delivery
on all orders
Pick up orders
from local bookshops
Reviews
Showing 1 - 5 of 6 reviews.
Previous | Next
Review by freelancer_frank
16/06/2015
This is a book about the metaphysical nature of farce and/or the farcical nature of metaphysics. It is no accident that it is set in Greece. For the main part it reads like Wodehouse meets Twelfth Night. It is clever, funny, delightful and serious. Repeated references to Bougainvillea suggest a pleasing symbol for beauty in complexity. Possibly a touch too light for its own good but very much worth the journey.
Review by Ray.Fitton
16/06/2015
Set on a Greek island where a sort of holiday/self imptrovement centre has been set up for rich people. In reality it is a front organisation, being used by its owners, international gangsters, for money laundering and also for plunder of ancient treasures (all this is completely unknown to the management).The plot centres around an unintentional switch of identity between an internationally renowned speaker and a beautiful but feckless but highly plausible young man. The speaker finds himself with someone else's identity and staying in the wrong place on the island, with the new "girl friend" of the young man. The latter takes the part of the speaker at the Centre, with great success.For me, the novel is about the flimsyness of perceptions of reality, questions of identity and role, gullibliity and human foolishness.It was entertaining, but often too silly, too contrived, shallow at times and with a weak ending.
Review by adzebill
16/06/2015
A frothy entertainment, a farce of shuffled suitcases and mistaken identity which works through all the permutations right to the final dénouement, when it suddenly loses patience with itself and its conventions. Good fun.
Review by SandDune
16/06/2015
Dr Norman Wilfred, the world-renowned expert on the management of scientific research flies to the Greek island of Skios to deliver the annual Fred Toppler lecture. On the same plane is Oliver Fox, notorious in his own circles for the outrageous and unexpected things that he does on a regular basis and from which he escapes the worst consequences by using his good-looks and charm. Having been thrown out by Anneka, his partner of several months, Oliver is escaping to Skios to spend a week with Georgie, a casual aquaintance who has fallen for his charm. Picking up the wrong suitcase off the carousel (that belonging to Dr Wilfred), he receives a text from Georgie saying that she has been delayed by 24 hours, and faced with being on his own for the next day, and confronted in Arrivals by the blonde, lightly tanned, and very organised Nikki from the Fred Toppler Institute holding up a sign for Dr Norman Wilfred, Oliver decides that he will be Dr Norman Wilfred for at least as long as it takes for anyone to discover that he isn't. Of course, that leaves the real Dr Wilfred without a suitcase: when he eventually emerges into Arrivals the only person left is the taxi driver sent to meet Oliver and he ends up being taken to Oliver's villa under the mistaken impression that it is the guest quarters of the Fred Toppler foundation. And when Georgie eventually arrives things become more and more complicated.The book carries on in this vein and has all the elements of a tradional farce: mistaken identities; mistaken bedrooms; split-second misses; and people ending up without their clothes (several times). But it's done very well and (almost) believably. And again it was another book that made me laugh several times (this is getting to be a habit) and certainly made me smile a lot. So overall, not a Booker prize winner, in my opinion, and probably not a short-list contender, but a book that it's well worth reading. And the audio version with Martin Jarvis is certainly well worth listening to.
Review by ylferif
16/06/2015
I didn't find any of these characters to be sympathetic and thought the ending a violent cop-out.