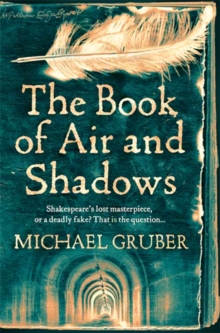 The Book of Air and Shadows
Paperback
Description
A clever, pacey thriller set around the search for a lost Shakespearean play.Tap-tapping the keys and out come the words on this little screen, and who will read them I hardly know.
I could be dead by the time anyone actually gets to read them, as dead as, say, Tolstoy. Or Shakespeare. Does it matter, when you read, if the person who wrote still lives?These are the words of Jake Mishkin, whose seemingly innocent job as an intellectual property lawyer has put him at the centre of a deadly conspiracy and hunt to find a priceless treasure connected to William Shakespeare.
As he awaits a killer-or killers-unknown, Jake writes an account of the events that led to this deadly endgame, a frantic chase that began when a fire in an antiquarian bookstore revealed the hiding place of letters containing a shocking secret, concealed for four hundred years.
In a frantic race from New York to England and Switzerland, Jake finds himself matching wits with a shadowy figure who seems to anticipate his every move.
What at first seems like a thrilling puzzle waiting to be deciphered soon turns into a dangerous game of cat-and-mouse, where no one - not family, not friends, not lovers - is to be trusted.Moving between twenty-first-century America and seventeenth-century England, `The Book of Air and Shadows'is a modern thriller that brilliantly re-creates William Shakespeare's life at the turn of the seventeenth century and combines an ingenious and intricately layered plot with a devastating portrait of a contemporary man on the brink of self-discovery . . . or self-destruction.
Information
Format: Paperback
Pages: 576 pages
Publisher: HarperCollins Publishers
Publication Date: 01/08/2007
Category: Thriller / suspense
ISBN: 9780007251902
Free Home Delivery
on all orders
Pick up orders
from local bookshops
Reviews
Showing 1 - 3 of 3 reviews.
Review by Tjarda
16/06/2015
Jake Mishkin is an IP lawyer. Albert Crosseti works at a bookstore. They do not know eachother, but they will hunt for an unknown manuscript of Shakespeare. Or is it a fake?I found it very hard to get into this book, because of the changing perspective. And not only the varying perspective made it hard, the timeline in which the two maincharacters appear does not run equally. When you can get into this book it is a nice read, nothing special though. We have all seen it before in the Da Vinci code, the rule of four etc.
Review by wyvernfriend
16/06/2015
If you're looking for something like Michael Grubers other thrillers you're looking in the wrong place. No frisson of voodoo or paranormal here. It's a story of a possible missing Shakespearian play, the various people hunting for it and an awful lot of double speak. It's not the best written of it's type, nor is it incredibly mysterious but I found it intresting. I can see what other commentators have said about the plot and it does feel like a cash in on the Da Vinci Code, but it's not a bad cash-in. The story is told in three parts. Jake Mishkin's story, a story of the Intellectual Property Lawyer who gets sucked in by a client and finds himself in deadly danger. Albert Crosetti - working part-time for a rare book store, dragged in by a pretty woman who is fixing a fire-damaged book and finds some unusual papers in the binding of the book. Lastly, Bracegirdle; writing the story of his life to his wife in the 17th Century.All of them find themselves in danger and fighting to keep alive against all odds. Thankfully Mishkin is wealthy and can afford to chase this goose around the world. But is the manuscript real, or a con?I found it an interesting story but found myself disbelieving a lot of bits and pieces of the story, I had a fairly good idea where they were going and recognised Mishkin as both the "unreliable narrator" and "unlikeable hero" from early on. A lot of what happened appeared to be to shore up some of these traits rather than to promote the story and the story felt a bit padded.Still I enjoyed the read.
Review by riikkat
16/06/2015
At the beginning of the book we find Jake Mishkin, an intellectual property lawyer, hiding on a remote cabin and waiting for a bunch of Russian gangsters to come and finish him off. As the story progresses, part of me begins to wish they would hurry the hell up already. At least that would save me from reading all of Mishkin's ramblings about the sorry state of his life. But more on that later.The story itself starts with a burning bookshop. While trying to salvage a set of books after the fire, Al Crosetti and his colleague/girlfriend candidate Carolyn Rolly find an old manuscript in the binding of the books. The manuscript is written by Richard Bracegirdle, a 17th century busybody, who has among other things gotten himself mixed up with the spying of one William Shakespeare. Bracegirdle goes on to suggest that there would still be an unpublished play by Shakespeare to be found, lying around somewhere on the British countryside. To make matters interesting, the hiding place of the play is revealed in a series of letters, all written in cypher. After Crosetti is swindled to sell the manuscript to a professor for peanuts, Rolly disappears and Crosetti is left alone to crack the code of the cypher with his clever mother and her band of friends. The professor is later murdered, right after leaving the manuscript in the possession of Jake Mishkin, which brings him along to the intrigue.Doesn't sound that bad right? Well it wouldn't be if the story didn't alternate between Crosetti and Mishkin with the letters of Bracegirdle, all written in Olde Englishe, thrown in for good measure. Now while Crosetti, who actually gets things done and the story going onward, is a likeable, sympathetic character, Mishkin is anything but. For some reason the author has deemed it necessary for the reader to know the whole of Mishkin's life's story, a little of which, in my opinion, has any relevance to the underlying story of the manuscript. Since all Mishkin seems to have is problems, especially when it comes to relationships with his mother, father, siblings, ex-wife, children, lovers and well, basically everybody, it really starts to get on your nerves after awhile.There were some parts of the book that I liked though. I thought the last 1/3 of the story was fairly exiting, if only because the pace was finally picking up and Mishkin had finally finished his recital. And I liked Crosetti. In fact I wish the book had been about him, which would have made the story half the length and twice as interesting.