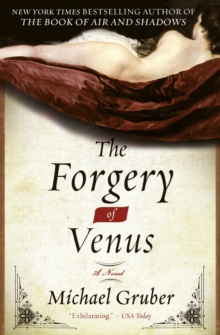 The Forgery of Venus : A Novel
Paperback
Description
An artist born outside his time, Chaz Wilmot can paint like Leonardo, Goya, Gainsborough-and he refuses to shape his talent to fit the fashion of the day.
His unique abilities attract the attention of Werner Krebs, an art dealer with a dark past and shadier present, and soon Wilmot is working with a fervor he hasn't felt in years.
But his creative burst is accompanied by strange interludes-memories that are not memories . . . and he begins to wonder if he is really the person he believes he is.
When a previously unknown masterpiece by the Spanish painter Velazquez is discovered, the artist suddenly finds himself lost in a mirrored house of illusions-and propelled into a secret world of greed, lies . . . and murder.
Information
Format: Paperback
Pages: 336 pages
Publisher: HarperCollins Publishers Inc
Publication Date: 10/03/2009
Category: Crime & mystery
ISBN: 9780060874490
Free Home Delivery
on all orders
Pick up orders
from local bookshops
Reviews
Showing 1 - 5 of 7 reviews.
Previous | Next
Review by BobNolin
16/06/2015
As an artist and history buff, I loved this book! Just tore through it. The thriller/mystery aspects of seemed to be almost unnecessary, but then I guess it sells books. Towards the end I got lost in the hall of mirrors, but maybe it'll make sense on the second reading. And I will read it again -- it was that good. Much better than Book of Air and Shadows. As in that book, we have a disturbed main character, but this time I could relate to him. Maybe it's because I'm an artist (Venus) and not a sex addict (Air and Shadows). And this time, the man's emotional problems were central to the story, whereas in Air and Shadows, it seemed totally beside the point. Gruber is a wonderful writer, and we agree about art and politics, it seems, so that helps. Don't know if I would've enjoyed it so much if I wasn't an artist and hadn't studied art history. I would've enjoyed this story if it was just a time travel piece while under the influence. Hell, I've read plenty of time travel stories with much flimsier underpinnings. I didn't need a mystery/thriller to drive it along, really. And considering the "real" story is left up to our imaginations, I wonder if it was, again, just beside the point. It's almost like Gruber sets out to write a book of a certain type and sticks to it even after it becomes a different sort of story. Or, as in Air and Shadows, perhaps he's trying to write in mongrel genre, the Time travel/ mystery thriller potboiler. Personally, I find his insights and erudition more than enough to make him worth reading. I don't need him to pretend to be John Grisham, too. (Never read Grisham, but you catch my drift.)
Review by auntmarge64
16/06/2015
Michael Gruber is one of my favorite authors, and I think I've read all of his novels at this point.. This one is about the world of artists and forgers, but the central question is whether the main character is mad (always an intriguing question). I found the information about the art world somewhat too detailed at times, but as the story progressed and the main character's dilemma came into focus, the difficulty of determining which of his experiences were real became quite a scary proposition to contemplate.
Review by adpaton
16/06/2015
Michael Gruber is one of those rare writers who do not hesitate to surprise the reader with some strange and unexpected twist: the ingenious Book of Air and Shadows had an Olympian weight lifter as the hero of a delicate literary mystery.This novel concerns a priceless and newly discovered Velazquez Venus which is both a forgery, since it is painted by 21st Century artist Chaz Wilmot, yet not a forgery, since at the time of painting the artist was possessed by the spirit of Velazquez. Not quite as good perhaps as its predecessor but never-the-less The Forgery of Venus is an educated, informative, intriguing and interesting literary novel.
Review by nancnn2
16/06/2015
This review refers to an unabridged audio edition of the book.I found this in my library right before a recent trip, and thought it sounded like something I would love...art, history, intrigue. My trip was approximately 12 hours of driving, and I am afraid that this book made it seem twice as long.What a disappointment. No character in this book engaged me. I didn't like them, I didn't dislike them...I just didn't care about them, or what happened to them. I felt the author just repeated the same passages in slightly different settings over and over (and over) again. Even the historical flashbacks to another painter in another time were disappointing. I did not feel transported, and I did not feel that I learned anything about the time period.Interestingly, when I clicked on "will I like this book" on LibraryThing, it suggested that, "yes, you will love it." My general reading interests completely fit the profile of someone who would, indeed, enjoy this book. Obviously, profiling has its limits.
Review by ACQwoods
16/06/2015
The first few times I heard about this popular novel, I thought the plot sounded too contrived for me to enjoy it. But after numerous strong reviews from diverse sources I added it to my list. As soon as I started reading it I couldn't put it down. It's the story of a painter in present day New York City whose style and technique belong in an older era. When he joins a clinical trial for a new drug designed to increase creativity, he finds himself traveling back first to his own youth and then to that of a famous painter. Soon he's not sure what is real, past and present, and when a painting by an old master is discovered the reader no longer knows who the real artist is. It was an unexpected page turner!