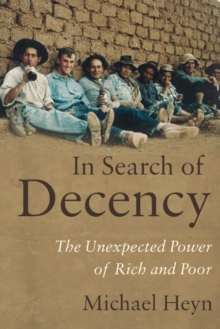 In Search of Decency : The Unexpected Power of Rich and Poor
Paperback / softback
Description
A vision and practical path of a new partnership of rich and poor to create a better world.
An uncommon memoir, Michael Heyn's cross-cultural journey through pervasive human adversity unexpectedly reveals a positive global vision of human decency and caring relevant as much to America as to Yemen.
His journey passes through 50 years living and working across countries spanning from the United States to India, Pakistan, Ethiopia, South Pacific Islands, Nepal, Kenya, Liberia, Malawi, Thailand, Kosovo, Bangladesh, South Sudan, Vietnam, and Yemen.
His story stretches from an unsettling childhood to a lifetime in support of the struggle for justice, opportunity and change of those left on the far sides of an ever expanding divide between rich and poor.
From living as a Peace Corps Volunteer in a remote Peruvian mountain village to innumerable confrontations with prejudice, abuse, deprivation, conflict and war over a long career in service of the United Nations, Heyn shares what he learned from those caught up on either side of the chasm.
A unique insight into and historical understanding of both alienation and aspiration that cut through all human cultures and relations, Heyn envisions a break from the past isolation of greed and selfishness on the one hand and a stark hopelessness on the other. This is a voyage of accumulating discovery that exposes what must change if people are to cross over the divide to come together for their common good, no matter how antithetical this may seem.
It is a belief in the basic decency of people both rich and poor as the magic to realise such change.
Heyn sets out a practical path to achieve this goal to be actively pursued and managed by those bridging the divide.
In the face of seemingly insurmountable odds, it is an exhilarating path that will benefit all engaged and instill reform of our societies' values and governing systems.
It is the vision of an immense new power of rich and poor to realise an altered way of life and a better world.
In Search of Decency is a gripping memoir that provides cross cultural and political analysis, and views on international development. "My hope is to inspire people, rich and poor, young and old, corporate leaders and agents ofchange, that the world can be a more just and decent place, and that their commitment to join together is the power to make this happen," says author Michael Heyn.
Information
Format: Paperback / softback
Pages: 448 pages
Publisher: Troubador Publishing
Publication Date: 01/09/2013
Category: Memoirs
ISBN: 9781783060610
Free Home Delivery
on all orders
Pick up orders
from local bookshops