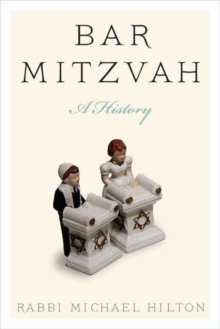 Bar Mitzvah, a History
Paperback / softback
Description
The Jewish coming-of-age ceremony of bar mitzvah was first recorded in thirteenth-century France, where it took the form of a simple statement by the father that he was no longer responsible for his thirteen-year-old son.
Today, bar mitzvah for boys and bat mitzvah for girls are more popular than at any time in history and are sometimes accompanied by lavish celebrations. How did bar mitzvah develop over the centuries from an obscure legal ritual into a core component of Judaism?
How did it capture the imagination of even non-Jewish youth?
Bar Mitzvah, a History is a comprehensive account of the ceremonies and celebrations for both boys and girls.
A cultural anthropology informed by rabbinic knowledge, it explores the origins and development of the most important coming-of-age milestone in Judaism.
Rabbi Michael Hilton has sought out every reference to bar mitzvah in the Bible, the Talmud, and numerous other Jewish texts spanning several centuries, extracting a fascinating miscellany of information, stories, and commentary.
Information
Format: Paperback / softback
Pages: 344 pages, 3 illustrations, 1 table
Publisher: Jewish Publication Society
Publication Date: 30/04/2014
Category: Judaism: worship, rites & ceremonies
ISBN: 9780827609471