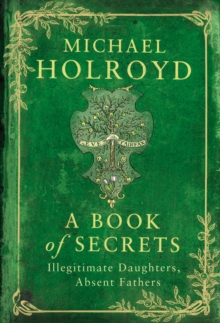 A Book of Secrets : Illegitimate Daughters, Absent Fathers
Hardback
Description
On a hill above the Italian village of Ravello stands the Villa Cimbrone - a place of fantasy and make-believe.
The characters that move through Michael Holroyd's new book are destined never to meet - they lived through different eras and reside in different countries.
Yet the Villa Cimbrone unites them all. "A Book of Secrets" is a treasure-trove of hidden lives, uncelebrated achievements and family mysteries.
Michael Holroyd peers into dusty corners to bring a company of unknown women into the light.
Their lives are fluid and vulnerable - they play the role of mistress, fiancee, or muse - and always somehow illegitimate.
From Alice Keppel, the mistress of both the second Lord Grimthorpe (owner of the Villa Cimbrone) and the Prince of Wales; Eve Fairfax, Lord Grimthorpe's abandoned fiancee and sometime muse of Auguste Rodin; and, finally, to the novelist Violet Trefusis, the lover of Vita Sackville-West in one of the most scandalous love affairs of the early twentieth-century: these women are always on the periphery of the respectable world. Also on the periphery is the elusive biographer, Michael Holroyd, who turns the spotlight upon himself as part of his investigations into the art of biography.
Taking the reader on a journey of discovery from Ravello to Paris, from Kirkstall Grange in Yorkshire to Vita Sackville-West's home at Knole, "A Book of Secrets" lucidly gives voice to fragile human connections.
Information
Format: Hardback
Pages: 272 pages, 1 x 8pp b/w
Publisher: Vintage Publishing
Publication Date: 04/11/2010
Category: Biography: general
ISBN: 9780701185343
Free Home Delivery
on all orders
Pick up orders
from local bookshops
Reviews
Showing 1 - 1 of 1 reviews.
Review by ChrisSterry
16/06/2015
I very much enjoyed the earlier part of this book, centring around the life and various loves of Ernest Beckett, 2nd Lord Grimthorpe. It was a glittering tangle of mysteries and infidelities. In these 'Google' days I was able to follow up references and was fascinated by the vignettes of fashionable life illustrated by José Dale-Lace in South Africa. The portrait of José is particularly fine.All roads seem to lead to Villa Cimbrone, and Holroyd, of course, travels there. The description of his visit with Catherine Till brings those mysteries of the past into a new, and current focus.Seven years later he invited back to the Villa Cimbrone by Tiziana Masucci. Chapter Five, 'Excitements, Earthquakes and Elopements' continues the autobiographical theme, as Tiziana's own absorption with Violet Trefussis is explored. From then on, however, the book seemed to me to lose its focus, and to descend into yet another episode of the long-running and oft explored Vita-Violet (+Virginia) saga—albeit seen heavily from Violet's point of view.One expects that all this will lead back, in some way, to the Villa Cimbrone, but it really doesn't. The Villa makes a fleeting, and rather token appearance, in the Epilogue, but only as a symbol, and one very loosely connected to Violet herself.Lady Sackville and Mrs Keppel might almost be seen as unifying characters in this book, sailing like imperious galleons, getting closer and closer to the waterline as the book progresses, until, with little ceremony, they sink.