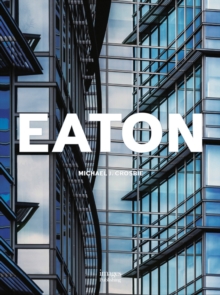 Eaton Center: Out of the Land
Hardback
Description
Eaton Center is the expression of the values of a century-old company with deep roots in the American Midwest.
Rising above the rolling terrain of northern Ohio that was once farmland, the building takes its place between woods and a reflecting pond, with a bearing that recalls a manse in the countryside.
The experience of Eaton is planar: it extends space and views, both close and distant, through the landscape, connecting the building and its people to the place, and the values held in common.
Eaton Center is the product of a dedicated client and design team and the values that brought them together to create a special place to work.
Authored by architecture critic Dr Michael J. Crosbie, this highly visual book documents that collaboration between Eaton and the design team and the resulting dramatic transformation of the land into Eaton's new home on the North American plain.
AUTHOR: Michael J. Crosbie, PH.D., FAIA, is Associate Dean of the College of Engineering, Technology, and Architecture at the University of Hartford, and Professor and Chair of Hartford's Department of Architecture. He is the editor-in-chief of 'Faith and Form: The Interfaith Journal on Religion, Art, and Architecture.' Dr. Crosbie is the author of more than 20 books on architecture and has edited and contributed to approximately 20 others.
The author of hundreds of articles on architecture, design, and practice, Dr. Crosbie is a frequent contributor to international print and online publications, and he has lectured on architecture throughout the United States and abroad.
He is a registered architect in Connecticut, having practiced with Centerbrook Architects and Steven Winter Associates, and serves on the board of the Connecticut. 200 col.
Information
Format:Hardback
Pages:265 pages
Publisher:Images Publishing Group Pty Ltd
Publication Date:01/09/2014
Category:
ISBN:9781864705775