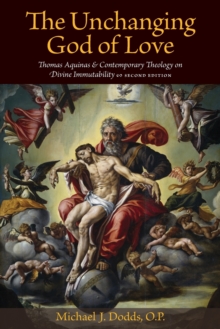 The Unchanging God of Love : Thomas Aquinas and Contemporary Theology on Divine Immutability
Paperback / softback
Description
Much contemporary debate surrounds the traditional teaching that God is unchanging.
It is frequently argued that an immutable God must be cold, remote, indifferent, and uncaring - that an unchanging God cannot be the triune God of love revealed in Scripture.
Those who reject divine immutability often single out Thomas Aquinas as its most prominent proponent.
Unfortunately, such critics of his theology frequently misunderstand the fundamentals of Aquinas' actual teaching.""The Unchanging God of Love"" provides a clear and comprehensive account of what Aquinas really says about divine immutability, presented in a way that allows his theology to address contemporary criticisms.
The book first reviews the various ways Aquinas applies the notion of immutability to creatures, showing that he is well aware of both the positive and negative implications of the concept.
It then analyzes all of his arguments for divine immutability that are presented in his writings, noting his care in determining which aspects of immutability are to be affirmed and which are to be denied of God.
It also demonstrates the distinctiveness of Aquinas' teaching by examining the biblical, patristic, and philosophical sources he employs.Aquinas' unchanging God proves to be no static deity, but the dynamic, trinitarian plenitude of knowledge, love, and life, to whom not only immutability but also motion may in some way be attributed.
A study of 'the motion of the motionless God' reveals how the concepts of both motion and immutability function in Aquinas' understanding of the Trinity, the Incarnation, Creation, and Providence.
Through this study, it becomes clear that the unchanging God of Aquinas, far from being indifferent or remote, is truly the God of compassion and love revealed in Scripture, who shares a most intimate friendship with the people he has created and redeemed.
Information
Format: Paperback / softback
Pages: 288 pages
Publisher: The Catholic University of America Press
Publication Date: 15/01/2009
Category: Christian theology
ISBN: 9780813215396
Free Home Delivery
on all orders
Pick up orders
from local bookshops