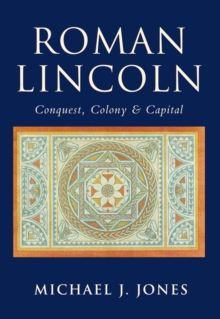 Roman Lincoln : Conquest, Colony & Capital
Paperback / softback
Description
This is the first full-length treatment of Roman Lincoln, more than 1500 years after its demise.
By AD 450 it had ceased to exist as an urban centre; its physical remains, however, survived well for several centuries, and some elements - notably the city wall - influences the city's topography until the nineteenth century; parts are still visible today. This work, by Lincoln's City Archaeologist, builds on the achievements of many in the past: the early antiquarians, the first systematic excavations carried out in the 1940s by a series of distinguished museum curators and local volunteers, and the thousands who have taken part in th many excavations since the 1970s.
The resulting study represents a combination of local, national and international history.
For, so fragmentary is out knowledge that each city has its own particular contribution to make to the whole - 'all history is local history'. We learn of the initial conquest and establishment of the fortress, in the territory of the Iron Age Corieltauvi, soon after the Claudian invasion of AD 43.
After the departure of Legio II Adiutrix for Chester in the late 70s, Lincoln was established, by imperial decree, as a Colony - Colonia Domintiana Lindensium - primarily for former soldiersin the Ninth Legion.
Over the centuries the administrative apparatus and the full panoply of public works (forum, baths etc.) developed, and the city expanded enormously and developed links with the hinterland.
Later on still, there was new building in the fourth century when the late Roman capital became a Christian centre, before its final decline and almost complete abandonment. In a book that explains the early story of Lincoln to the local community and to its visitors, Michael Jones shows what the archaeological remains tell us of the daily life of the Roman community.
Information
Format: Paperback / softback
Pages: 160 pages
Publisher: The History Press Ltd
Publication Date: 01/11/2002
Category: British & Irish history
ISBN: 9780752414553