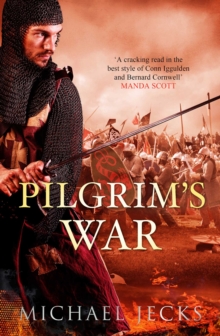 Description
The first instalment of a thrilling new crusader series in the style of Conn Iggulden and Bernard Cornwell.
France, 1096. Crowds gather in Sens to hear the man known as the Hermit speak.
He talks of a pilgrimage to the city of Jerusalem, one filled with promise for the Christian soldiers who march with him. Sybille knows the perils of the road ahead, but she has no choice.
Her husband is a reckless gambler, easily swayed by the Hermit's words.
She must follow her husband and join the great pilgrimage. For Odo, the pilgrimage is all. It provides him an opportunity to demonstrate his faith and piety.
His brother Fulk seeks relief from boredom and the restraints of apprenticeship.
He craves adventure and excitement. Jeanne and Guillemette have been treated badly by the men in their life but this is their chance for redemption and a brighter future.
But life on the road for two women alone will be perilous . . . On the long road to Jerusalem, right and wrong, love and hate, virtue and sins will become blurred.
Each must survive as best they can. Who will live to reach it - and will the sacrifices they must make to get there be worth the price they all must pay?What readers are saying about Michael Jecks 'A cracking read in the best style of Conn Iggulden and Bernard Cornwell, this will delight existing fans and bring many more to the fold' Manda Scott 'Vivid imagination and gripping prose - exactly what I expected from Michael Jecks' Anthony Riches 'Michael Jecks at his very best.
A breath-taking adventure which sweeps the reader directly into the heat, passion and horror of the infamous siege.
Michael Jecks' detailed knowledge of medieval warfare sets this novel ablaze.
Utterly enthralling' Karen Maitland 'Classic Jecks - and that's as good as it gets!' Susanna Gregory 'Compellingly brought to life - both bloody reality and glorious courage' Julian Stockwin 'Michael Jecks is the master of the medieval whodunit.
I want more' Robert Low 'Well told and often graphically chilling' Historical Novel Society 'Wonderfully descriptive battle sequences . . . a cracking read and a series that Historical Fiction fans will just love' Falcata Times
Information
Format:Hardback
Pages:400 pages
Publisher:Simon & Schuster Ltd
Publication Date:08/02/2018
Category:
ISBN:9781471150005