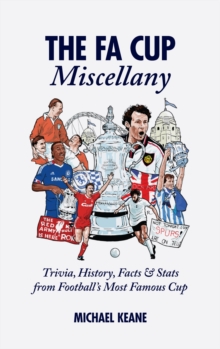 The FA Cup Miscellany : Trivia, History, Facts & Stats from Football's Most Famous Cup
Hardback
Description
The FA Cup Miscellany collects together all the vital information you never knew you needed to know about the world's oldest cup competition.
In these pages you will find irresistible anecdotes and the most mindblowing stats and facts.
Heard the one about the referee who had to hide in a broom cupboard from a furious, naked goalkeeper?
How about the gypsy curse that lasted for decades? Or the time Jeremy Paxman tackled Kenny Dalglish? Do you know how an FA Cup quarter-final between Notts County and Stoke changed football forever?
Which current player has a winner's medal for every day of the week? Or how a fragile corner flag stopped some Spartans from marching on?
All these stories and hundreds more appear in a brilliantly researched collection of trivia - essential for any football fan who holds the riches of almost 140 years of Cup culture close to their heart.