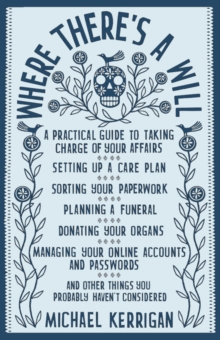 Where There's a Will : A Practical Guide to Taking Charge of Your Affairs
Paperback
Description
"Kerrigan's tone is carefully balanced and the writing is compelling - he urges us to seize the day before it seizes us" (Sarah Stone, Dying Matters Coalition). Death is inevitable, yet most of us avoid thinking about it at all costs.
But is ignorance really bliss? Perhaps if we prepare ourselves thoughtfully for death - whether our own or a loved one's - and take charge of our own affairs, we will be able to reduce some of the suffering involved.
With new medical life-support technologies, generational & family conflict, complicated loans and pensions, concerns for a greener planet, and all our online activities...Dying, mourning and their aftermath can be a whole lot of grief.
Where There's a Will guides you through all the emotional, financial, legal and practical issues that you need to consider.
With a combination of constructive tips and thoughtful reflections on dying, death and bereavement, this book throws light on subjects that all too often remain taboo.
Free Home Delivery
on all orders
Pick up orders
from local bookshops