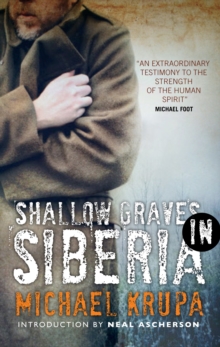 Shallow Graves in Siberia
Paperback
Description
Michael Krupa was born into a poor family in south-west Poland, and in his teens was accepted into a Jesuit seminary.
He ran away before taking his final vows and joined the army.
Soon afterwards, the German tanks rolled into Poland and easily defeated her antiquated forces - the Polish cavalry were armed with sabres.
Krupa survived Hitler's invasion, but was arrested in Soviet-occupied eastern Poland and accused of spying.
After enduring torture in Moscow's notorious Lubianka prison, he was sentenced to ten years' corrective labour and deported to the Pechora Gulag.
Most prisoners there were worked and starved to death within a year.
But Krupa managed again to escape, and in the chaos following the Nazi invasion of the Soviet Union made one of the most extraordinary journeys of the war - from Siberia to safety in Afghanistan.
Krupa's Jesuit training had given him an inner strength and resilience which enabled him to survive in the face of appalling brutality and cruelty.
Luck and the kindness of strangers helped him complete his epic journey to freedom.
The story of the suffering inflicted on millions in Stalin's camps has been told before - but Krupa's story is remarkable and uni
Information
Format: Paperback
Pages: 224 pages
Publisher: Birlinn General
Publication Date: 01/07/2004
Category: True war & combat stories
ISBN: 9781843410126
Free Home Delivery
on all orders
Pick up orders
from local bookshops
Reviews
Showing 1 - 2 of 2 reviews.
Review by Bridgey
16/06/2015
Shallow Graves in Siberia - Michael Krupa ****This true story details the journey of Michael Krupa. Captured by the Soviets and accused of being a German spy he is tortured and sentenced to a term in the notorious Russian Gulags. Whilst there he acquires a prestigious and trusted job as a Telephone repair man, a job that allows him weeks of travel unescorted, he soon begins to think of escape.We follow his trek fromSiberia to safety in Afghanistan.In the novel there are some graphic details of torture (including a woman interogator who removes tesicles with a poker), and many touching moments (such as the help given by strangers, in particular a couple who's son has also gone missing into the Gulags).I really enjoyed this book, the only reason I gave it 4 stars was that a number of reviews have questioned the integrity of the authors story. I don't know if it is all true, but I would certainly like to think so.
Review by judithrs
16/06/2015
Shallow Graves in Siberia. Michael Krupa. 1995. This is one of the book Erik Larson, mentioned in In the Garden of Beasts. It is a true account of the author's arrest when he was trying to fight in the resistance against Hitler in eastern Poland. The Soviets accused him of spying and sent him to the infamous Lubianka prison to be tortured into confessing. From there he was sent to the gulag in Siberia where most prisoners failed to survive a year under the brutal conditions. Using his ability to speak Russian and his wits he escaped and eventually got to Afghanistan and to freedom. This is a brief but vivid account of the horrors of the Soviet system and a testament to one man's determination to survive the nightmarish system.