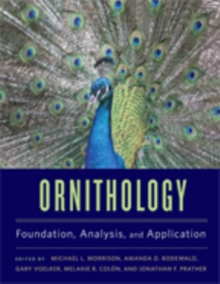 Description
Aves, the birds, is the wildlife group that people most frequently encounter.
With over 10,000 species worldwide, these animals are part of our everyday experience.
They are also the focus of intense research, and their management and conservation is a subject of considerable effort throughout the world.
But what are the defining attributes that make a bird a bird?Aimed at undergraduate and graduate students, Ornithology provides a solid modern foundation for understanding the life and development of birds.
Written by renowned experts from around the globe, this comprehensive textbook draws on the latest research to create an innovative learning experience.
Moving beyond bones, muscle, and feathers, it provides the core information needed to "build" the bird, linking anatomy and physiology with ecology and behavior. As it reviews the major orders of birds, the book highlights their wide diversity and critically evaluates ornithological concepts and theories.
Incorporating brief biographies of leaders in the field, the text describes their contributions in the context of key historical events in bird science.
Each chapter ends with a summary of the material covered, a discussion of potential management and conservation applications, and suggested study questions that will stimulate thought and discussion.
Contributors: Peter Arcese, George E. Bentley, Lori A. Blanc, William M. Block, Alice Boyle, Leonard A. Brennan, Luke K. Butler, Zac Cheviron, Luis M. Chiappe, Melanie R. Colon, Caren B. Cooper, Robert J. Cooper, Jamie M. Cornelius, Carlos Martinez Del Rio, John Dumbacher, Shannon Farrell, Maureen Flannery, Geoffrey Geupel, Patricia Adair Gowaty, Thomas P.
Hahn, Ashley M. Heers, Fritz Hertel, Geoffrey E. Hill, Matthew Johnson, Lukas F. Keller, Dylan C. Kesler, Pablo Sabat Kirkwood, John Klicka, Christopher A.
Lepczyk, Ashley M. Long, Scott R. Loss, Graham R. Martin, John M. Marzluff, Susan B. McRae, Michael L. Morrison, Timothy J. O'Connell, Jen C. Owen, Marco Pavia, Jeffrey Podos, Lars Pomara, Jonathan F.
Prather, Marco Restani, Alejandro Rico-Guevara, Amanda D.
Rodewald, Vanya G. Rohwer, Matthias Starck, Michael W. Strohbach, S. Mazeika P. Sullivan, Diego Sustaita, Kerri T. Vierling, Gary Voelker, Margaret A. Voss, Jeff R. Walters, Paige S. Warren, Elisabeth B. Webb, Michael S. Webster, Eric M. Wood, Robert M. Zink, Benjamin Zuckerberg
Information
Format: Hardback
Pages: 1016 pages, 206 Line drawings, black and white; 730 Illustrations, color
Publisher: Johns Hopkins University Press
Publication Date: 03/09/2018
Category: Wildlife: birds & birdwatching
ISBN: 9781421424712
Free Home Delivery
on all orders
Pick up orders
from local bookshops