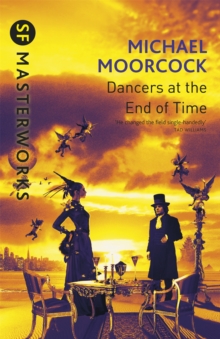 The Dancers At The End of Time
Paperback
Description
Enter a decaying far, far future society, a time when anything and everything is possible, where words like 'conscience' and 'morality' are meaningless, and where heartfelt love blossoms mysteriously between Mrs Amelia Underwood, an unwilling time traveller, and Jherek Carnelian, a bemused denizen of the End of Time.The Dancers at the End of Time, containing the novels An Alien Heat, The Hollow Lands and The End of All Songs, is a brilliant homage to the 1890s of Wilde, Beardsley and the fin de siecle decadents, satire at its sharpest and most colourful.
Information
Format: Paperback
Pages: 672 pages
Publisher: Orion Publishing Co
Publication Date: 01/05/2003
Category: Science fiction
ISBN: 9780575074767
Free Home Delivery
on all orders
Pick up orders
from local bookshops
Reviews
Showing 1 - 2 of 2 reviews.
Review by louisedennis
16/06/2015
In the end I liked Dancers at the End of Time more than I thought I would around half-way through. It is essentially a debate contrasting the values of the protestant moral world view and work ethic against an entirely free and "innocent" society. It suffered I felt from both a rather uneven structure across its three parts and a desire to add external threats and incidents which weren't really necessary. It wasn't as funny as the comedies of manners of Oscar Wilde, either, on which it was, I believe modelled. In the end I thought it succeeded as an exploration of its themes and was able to explore them in ways only possible in an SF novel of this kind but it failed as a homage to Wilde and Beardsley and as a more traditional style SF-based adventure which it seemed, in places, to wish to be.The story revolves around the love affair of Amelia Underwood, a married woman from Bromley 1896, and Jherek Carnelian from the End of Time. They provide the central constrast of course but one criticism I have is that Moorcock seemed to find it difficult to portray Jherek's freedom and innocence without frequently making him look rather stupid. For instance, in 1896, he meets HG Wells an a train and concludes through a misunderstanding that bicycles are time machines. Amelia corrects him but he refuses to believe the fact despite knowing that Amelia is a native of this time and place about which he acknowledges that he is largely ignorant. Structurally the first book works best, a story in two halves in which Amelia first visits the End of Time and Jherek then visits 1896. The second book then appears to retread much the same ground without advancing the plot a great deal, beyond driving a wedge between Amelia and her husband, and it works mostly as an extended farce. It is probably attempting to be Wildean, but Wilde succeeds by making fun of a society we understand and, in fact, many of his epithets are as aposite today as they were when written. Whereas the humour here is driven by the inability of the Victorians and the denizens at the End of Time to remotely comprehend each other without really critiquing either, let alone our own, which isn't really the same thing.The third book (just read) is rather top heavy and a bit rambling, bearing the burden of resolving the secondary plot about the end of the Universe without seeming particularly interested in it and also dealing with most of the substance of the love story. Where the books suceed though is in portraying this central love affair without mindlessly condemning either Victorian morality or the excesses of the End of Time - or perhaps it condemns both equally and having constructed a society with unlimited resources, no death and therefore an absense of sin finds it can not actually condone it. At the end Jherek and Amelia leave this symbolic Garden of Eden of their own free will to go "forwards" to the beginning of time as a new Adam and Eve.Bill is a huge fan of the portrayal of time within this book, but its portrayal, as I understand it, is not as Bill described it to me and I wonder if he was remembering another book. Time is cyclic and resists paradox. Any time-traveller in danger of creating a paradox is forcibly ejected by Time and sent, generally, forwards to somewhere they can do no harm. If they go too far forwards they cycle round into an alternative Universe. Bill seemed to think the books portrayed a kind of flexible time in which, even in the face of paradox, Time tended to mend itself so that it continued along much the same lines as it had before the intervention. The nature of time itself didn't seem to me to be particularly integral to the story line. It explained why there were comparatively few time travellers and added a certain danger into the characters various temporal voyages while at the same time providing a comedy scientist character who is wrong about things and petulant when his theories are challenged. Said scientist briefly shapes up for some sort of villainous role towards the end but Moorcock seems to grow bored of this and he is swiftly hoist by his own petard. Science gets fairly short shrift at the End of Time which is just about explained away towards the end when Amelia points out that since the residents of the End of Time can change the laws of Physics to suit themselves there is little point in trying to study or understand them but ultimately you get the sense that Moorcock believes humanity, left to its own devices in a state of innocence, is fundamentally more interested in aesthetics than understanding. Only Amelia and Jherek escape into a world in which man has to strive and in which, therefore, life has meaning. Ultimately this seems rather depressing.
Review by Jagami
16/06/2015
The Dancers at the End of Time combines Michael Moorcock's three novels An Alien Heat, The Hollow Lands and The End of All Songs, and is reprinted here as number 53 in the SF Masterworks series.The titular dancers are the inhabitants of Earth in the centuries prior to the destruction of the Universe. Their powers--granted to them by their ancestors' technology, which they no longer truly understand--are god-like, and the Earth of the distant future is their plaything. They are amoral aesthetes whose lives are carefully constructed pieces of performance art, or a series of complex games.Jherek Carnelian is the last human conceived and born on Earth in the old-fashioned way. At a party, he glimpses unwilling nineteenth century time traveller Mrs Amelia Underwood, and decides upon a new affectation: he will fall in love with her and win her heart. His new game thrills his friends, and everyone wants to play. Jherek's attempts to track down and seduce Mrs Underwood--as the Universe edges ever closer to destruction--are the heart of three quite funny novels.An Alien Heat, the first volume, is by far the best of the three. The weird omnipotent innocence of Jherek and his friends and rivals is beautifully introduced and developed, then made marvellous by Jherek's pursuit of Mrs Underwood back to the nineteenth century--where he is powerless, but still innocent, and barely understands a single thing that happens to him.The Hollow Lands is arguably the funniest of the three. Jherek's return to the nineteenth century culminates in the farcical set-piece chapter entitled, A Particularly Memorable Night at the Cafe Royal.The End of All Songs suffers slightly from its need to deal with the previous book's cliff-hanger and then to resolve the various plots, but Moorcock is a skilled writer, and he does what he needs to do with panache.