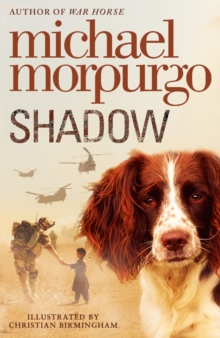 Description
A powerful novel from Michael Morpurgo, the nation's favourite storyteller... Never have Aman and his mother needed a friend more than when a Springer Spaniel appears - thin and war-ravaged - in the mouth of their Afghan cave.
Nursed back to health by Aman, the dog becomes a constant companion, a shadow, and that's what Aman decides to call her. But life in Afghanistan becomes more dangerous by the moment.
Eventually, Aman, his mother and Shadow find the courage to embark upon the treacherous journey from war-torn Afghanistan to the safely of a relative's home in Manchester, England. But how far can Shadow lead them? And in this terrifying new world, is anywhere really safe...?
Information
Format: Paperback
Pages: 288 pages
Publisher: HarperCollins Publishers
Publication Date: 01/09/2011
Category: General
ISBN: 9780007339617
Other Formats
CD-Audio from £8.25
Hardback from £10.65
EPUB from £3.49
eAudiobook MP3 from £5.59
Free Home Delivery
on all orders
Pick up orders
from local bookshops
Reviews
Showing 1 - 3 of 3 reviews.
Review by brangwinn
16/06/2015
Morpurgo has created story that shows the plight of many Afghan citizens who fled their homeland as political refuges. Aman tells the story of his life as he and his mother await deportation back to Afghanistan. Sitting in a deportation prison he recounts how a dog he befriended was a bomb sniffing dog for the British Army. Befriended by the British troops, he and his mother were able to get to Britain, and with the help of the British captain they get to stay in England. Yes, the story ends with a happy note, but to think what Aman and his mother would face in his homeland is not the way I want a story to end. I enjoyed the suspense and how ordinary British citizens helped Aman stay. Perfect reading for dog lovers who want a bit of contemporary history as well.
Review by dmiller70
16/06/2015
Great story about a part of the world that is not very familiar to many people - Afghanistan. It is an uplifting tale.
Review by boppisces
16/06/2015
Told through the eyes of Matt, his grandfather, and Aman, his best friend. After six years living in England, Aman and his mother are locked up in Yarl's Wood, an immigration removal centre in Bedfordshire. His best friend Matt talks his grandfather, an ex journalist, into going and visiting Aman and listening to his story. Aman's mother has had a dream that the grandfather will help them and so Aman pours out his story. Aman grew up in a cave in Bamiyan, in war torn Afghanistan. His family are Hazara. His grandfather was killed fighting against the Russian invasion with the Mujahadin resistance fighters. For a while there was peace until the Taliban arrived and destroyed their crops, homes and friends - even the great stone statues of the Buddha dating from the 6th century were dynamited and destroyed in March 2001. Aman's father spoke a little English and so helped interpret for the Americans when they arrived. Later the Taliban took him away and he was never seen again. One day a bedraggled Springer Spaniel appears at the mouth of Aman's cave. He feeds him, bathes his wounds, names him Shadow, and the two became close. The Taliban jail, beat and torture Aman's mother, and later beat and kill his grandmother. After that Aman and his mother, along with Shadow, start a long and horrific journey to reach her brother in England. Along with way Shadow finds a bomb on the road and Aman saves the life of some British soldiers and becomes a hero. In this way, Shadow is reunited with his original owners and Aman must leave him behind.After registering as asylum seekers they start a new life and Aman and Matt become best friends. Six years later, Aman and his mother are suddenly told they are to be deported back to Afghanistan and are locked up in the removal centre.What can Matt and his grandfather do?This is a compelling story of hope and despair. It is well worth a read and moved me to tears. The postscript includes information about the war in Afghanistan, Yarl's Wood and army sniffer dogs. Highly recommended.