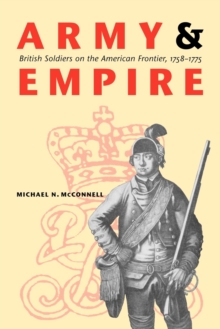 Army and Empire : British Soldiers on the American Frontier, 1758-1775
Paperback / softback
Description
The end of the Seven Years' War found Britain's professional army in America facing new and unfamiliar responsibilities.
In addition to occupying the recently conquered French settlements in Canada, redcoats were ordered into the trans-Appalachian west, into the little-known and much disputed territories that lay between British, French, and Spanish America.
There the soldiers found themselves serving as occupiers, police, and diplomats in a vast territory marked by extreme climatic variation-a world decidedly different from Britain or the settled American colonies.
Going beyond the war experience, Army and Empire examines the lives and experiences of British soldiers in the complex, evolving cultural frontiers of the West in British America.
From the first appearance of the redcoats in the West until the outbreak of the American Revolution, Michael N.
McConnell explores all aspects of peacetime service, including the soldiers' diet and health, mental well-being, social life, transportation, clothing, and the built environments within which they lived and worked.
McConnell looks at the army on the frontier for what it was: a collection of small communities of men, women, and children faced with the challenges of surviving on the far western edge of empire.
Information
Format: Paperback / softback
Pages: 236 pages
Publisher: University of Nebraska Press
Publication Date: 01/05/2008
Category: History of the Americas
ISBN: 9780803218444
Also by Michael N. McConnell