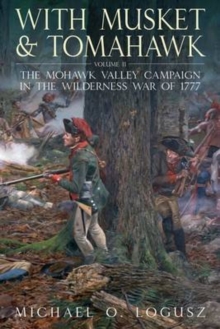 With Musket and Tomahawk, Vol. II : The Mohawk Valley Campaign in the Wilderness War of 1777
Paperback / softback
Description
"Using colourful storytelling techniques, Logusz captures the personalities of those individuals who played a pivotal role in the outcome of the Mohawk Valley Campaign...breathes dramatic life into a depiction of the long standing alliances and rivalries that fueled Patriot and Loyalist causes in the region, while describing how neighbours, families, friends and foes were caught up in Burgoyne's doomed play." -Toy Soldier and Model Figure"Logusz does an excellent job outlining the Battle of Oriskany...fascinating, well documented, and occasionally thought provoking."-The Journal of America's Military PastThis is the second volume of Michael O.
Logusz's epic work on the Wilderness War of 1777, in which the British Army, with its German, Loyalist, and Indian auxiliaries, attempted to descend from Canada to sever the nascent American colonies, only to be met by Patriot formations contesting the invasion of their newly declared nation. In his first volume, on the Saratoga campaign, the author described how Burgoyne's main thrust was first stalled and then obliterated during its advance down the Hudson River.
Burgoyne had hoped to be met by a corresponding British thrust from New York City, but this never materialised.
However, the British had indeed launched a third thrust from the west, embarking from Lake Ontario at Oswego and thence forging its way down the Mohawk Valley. This third British thrust, under General Barry St.
Leger, was perhaps the most terrifying of all, as it overran a sparsely populated wilderness where every man and boy had long needed to bear arms to protect against the ravages of the Iroquois Federation.
At Fort Stanwix, a Patriot fort held fast, though surrounded by St.
Leger's forces and his Mohawk and Loyalist auxiliaries.
A relief column some 800 strong under Nicholas Herkimer attempted to relieve the fort, but it was ambushed en route with most of its men killed or wounded, including the entire male population of several nearby communities.
It was a truly epic disaster.
Information
Format: Paperback / softback
Pages: 264 pages, 8pp illustrations
Publisher: Casemate Publishers
Publication Date: 14/03/2014
Category: History of the Americas
ISBN: 9781612002255