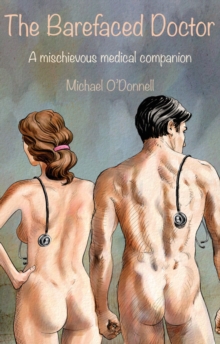 The Barefaced Doctor : A Mischievous Medical Companion
Paperback
Description
A witty, often satirical, A-Z medical encyclopedia, written by doctor and broadcaster, Michael O'Donnell whose barefaced approach to medicine is often serious but never solemn, and always entertaining. From an early age - his father was a GP in a Yorkshire mining village - Michael O'Donnell was aware of the oddities, uncertainties, life-affirming surprises and black comedy that make the practice of medicine so rewarding.
His observations were enhanced when he worked as a GP in the `gilded south' before becoming editor of World Medicine, rebel in residence on the General Medical Council, international medical journalist, and writer and presenter of over 100 television and radio medical documentaries. Inspired by a lifelong exposure to medical culture, and with tongue firmly in cheek, Michael defines, dissects and discusses a vast range of topics in his latest book.
Including:* Arcanian: The approved language for discourse between politicians, NHS managers, and interdisciplinary in-depth strategic thinkers seeking to roll out a raft of innovative frameworks* Data: Information published in medical journals in lieu of thought. * Doubt: Apart from death, the only certainty in medicine. * Herbaceous fever: Obsessional state induced by overexposure to television gardening programmes. * Modernising the NHS: Striving earnestly to fix that which does not need fixing while not fixing that which does. * Patients: Quirky individuals put on this earth to thwart the plans of clear-thinking, well-meaning nurses, doctors, and health administrators. * Socialised medicine: Phrase US citizens use to denounce any healthcare system more equitable than their own. * Superstition: The irrational beliefs of other people.
Our own irrational beliefs we call Faith
Information
Format: Paperback
Pages: 416 pages
Publisher: Troubador Publishing
Publication Date: 01/05/2013
Category: Medical equipment & techniques
ISBN: 9781780884264
Free Home Delivery
on all orders
Pick up orders
from local bookshops