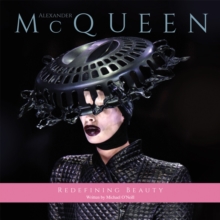 Alexander McQueen : Redefining Beauty
Hardback
Description
Magnificently illustrated with some of McQueen s most riveting designs, this book illuminates the struggles of a man who dared to defy accepted fashion norms and give the world a new sense of grandeur From conflicted gay teenager and aggressive and remote young man, through to his lonely suicide, this book charts Alexander McQueen s ascent to couturier par excellence, highlighting his spectacular shows and showing how his confrontational, streetwise manner was simply a shield that protected and masked a very shy, sensitive, and insecure man who hailed from the wrong side of the high fashion tracks.
McQueen s talent is now globally acknowledged to have been unmatched in contemporary haute couture, and this book distills from the lavish sweep of his colors, designs, fabrics, and forward-driving concepts the essence of a man on a quest for beauty and his own contentment.
In casting the spotlight on the stark contrast between catwalk glamour and his upbringing and personal demons, the book shows how his talent both nourished and destroyed him.
It takes us from the vicious glare of the walkway where he was feted by the wealthy and famous as an innovative artist to behind the glamour. There, defiance delineated a life that was hurled into inescapable depression by the deaths, first of his great friend and supporter Isabella Blow and then by his mother."
Information
Format: Hardback
Pages: 134 pages
Publisher: Danann Publishing Limited
Publication Date: 13/04/2015
Category: Individual designers
ISBN: 9780993181238