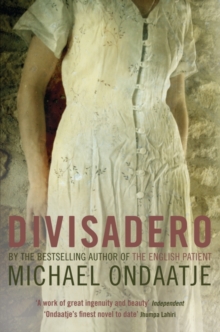 Description
It is the 1970s in Northern California. A farmer and his teenage daughters, Anna and Claire, work the land with the help of Coop, the enigmatic young man who lives with them.
Theirs' is a makeshift family, until they are riven by an incident of violence - of both hand and heart - that 'sets fire to the rest of their lives'.
This is a story of possession and loss, about the often discordant demands of family, love, and memory.
Written in the sensuous prose for which Michael Ondaatje's fiction is celebrated, "Divisadero" is the work of a master story-teller.
Information
Format: Paperback
Pages: 304 pages
Publisher: Bloomsbury Publishing PLC
Publication Date: 04/08/2008
ISBN: 9780747592686
Free Home Delivery
on all orders
Pick up orders
from local bookshops
Reviews
Showing 1 - 3 of 3 reviews.
Review by baswood
16/06/2015
I find this a confused novel. There seems to be a conflict in Ondaatje's approach to this book. He develops strong storylines that tend to peter out or stop suddenly while he explores timeshifts and a story within a story that veers toward a postmodernist style. It is as though the strong narrative lines do not allow him space to pour out his lyrical prose on which his reputation stands. The result is three of four interconnected stories that hang together precariously by dint of having familiar characters in each one, although a recurring theme is characters changing their names to sever connections with their past. They at times seem as confused as Ondaatje.There is of course much fine writing but it is slow to get going as Ondaatje concentrates on the narrative tale of two sisters Claire and Anne and the hired hand Coop growing up together on a North Californian farm. Anne's father stumbles on Anne and Coop making love: a violent scene ensues involving Clair which fractures the family and the remainder of the novel follows these characters who are all running from this cathartic event. Coop flees to Tahoe where he becomes a professional poker player and this is the least successful part of the novel as Ondaaje struggles to paint the glitzy underworld atmosphere of gambling halls and poker games. Claire runs into Coop in Tahoe where she saves his life for the second time and they are abandoned by Ondaatje, who is much more interested in telling Anne's story.The setting moves to South West France where Anne comes under the spell of Rafael a musician and traveller. Ondaatje is suddenly on safer ground, as he writes lyrically about love, desire and the beauty of the natural surroundings. Anne is researching the life of a fictional French writer; Lucien Segura. Ondaatje delves into the past of a war torn France to tell the back tale of Lucien and immediately the reader falls under the spell of some very fine writing. Ondaatje is describing a car journey through rural France:There was now not a single lit streetlamp in the villages we passed, just our headlights veering and sweeping along two lane roads. We were alone in the world, in nameless and unseen country. I love such journeying at night. You have most of your life strapped to your back. Music in the radio comes faint and intermittent. You are wordless at last. Your friend's hand on your knee to make sure you are not drifting away. The black hedges coax you on Ondaatje has written more books of poetry than novels and Divisidaro now slips into short episodic chapters that allows the author to demonstrate his wonderful poetic prose style. He tells of Lucien's fascination and love for Marie-Niege his brutal neighbours young wife, innocent and secret meetings, flowing water and repressed desire. We forgive Ondaatje for sometimes losing sight of his story because his writing is so fine. Lucien returns from the first world war and in a heartbreaking section cares for the ghost of Marie-Niege. Coop the gambler might just as well be in another world and possibly in another novel.Apparently this was Ondaatje's first novel after a seven year gap and the rustiness shows. He appears to have started off writing one novel and somewhere this has turned into someting quite different. Something quite better I would say, however the book as a whole does not quite work. There are echoes and themes running through the stories, but they seem to be forced. Ondaatje not at his very best.
Review by veracite
16/06/2015
It took the whole book before I felt I had anything like a handle on this book. The style does not sit comfortably. I couldn't grip or connect to the characters - I never did since the last quarter of the book is about different characters. As soon as I felt the book was getting somewhere, it changed. Ondaatje writes well, but seems to me, like so many men who 'write well', to be unable to connect with characters.
Review by AdonisGuilfoyle
16/06/2015
The blurb on the back cover really doesn't do justice to the poetry - or, indeed, much of the plot - of the actual novel. I was expecting some sort of rural farm-based kitchen sink drama, but the 'division' between the two sisters occurs early on, and then the story branches off into two completely different directions. Claire and Coop stay in America, meeting randomly in the midst of their separate lives, and Anna leaves for France to immerse herself in the work of a reclusive author, Lucien, and takes a lover called Rafael. We get a glimpse into the lives of every character, and the story ends with Lucien's ill-fated romance during the First World War. And Ondaatje's beautiful language is like another character in its own right - I kept getting caught up in his poetic turns of phrase, but never lost the threads of the story. A magical interlude.