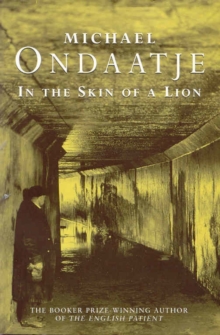 In the Skin of a Lion
Paperback
Description
'A magical book. Michael Ondaatje defies the normal distinction between poet and novelist.
His writing is consistently tuned to a visionary pitch' Graham Swift It is the 1920s, and Patrick Lewis has arrived in the bustling city of Toronto, leaving behind his Canadian wilderness home.
He immerses himself in the lives of the people who surround him, learning, from their stories, the history of the city itself. And he has his own adventures: searching for a missing millionaire, tunnelling beneath Lake Ontario, falling in love.
In the Skin of a Lion is Michael Ondaatje's sparkling predecessor to his Booker Prize-winning The English Patient.
It is here that we encounter, for the first time, Hana the orphaned girl and Caravaggio the thief, among a large cast of characters who are all lovingly and intimately portrayed.
It is an exquiste and musical novel, a romance that challenges the boundary between history and myth. 'Ondaatje writes in curves, in time-lapses, a sort of verbal cinema whose narrative is unfaltering' The Times 'A triumph ...a powerful and revelatory accomplishment' Times Literary Supplement
Information
Format: Paperback
Pages: 272 pages
Publisher: Pan Macmillan
Publication Date: 05/08/1988
ISBN: 9780330301831
Other Formats
Paperback from £7.65
Hardback from £15.79
EPUB from £7.19
Free Home Delivery
on all orders
Pick up orders
from local bookshops
Reviews
Showing 1 - 3 of 3 reviews.
Review by laweiman
16/06/2015
A compelling story that had me hooked, but I was frustrated by Ondaatje's writing style, which is often more poetry than prose. In some instances, this is beautiful from a pure literary sense, but it did nothing to help me with the urgency of wanting to have the story unfold. I also found the jumping around in time and from character to character jarring in an unpleasant way. I understand this is Onjdaatje's style, but it is not one of my personal favorites. Five stars for the storyline and character development, but 2 stars (or less) for the ordering of the tale and the ghost-like quality of the language.
Review by Vivl
16/06/2015
This will be a bit of a confused and perhaps unhelpful review. Sorry about that. I'm tired and flat in body and mind, recovering from a "holiday" that was more like an enforced labour camp. I'll do my best, however, to jot down a few impressions.<br/><br/>Being a prequel of sorts to The English Patient, I can't help comparing the two novels. I really, really liked this, but it didn't quite evoke the utterly rapturous response I had to its better-known sequel. The story is more linear (and so easier to follow), but also slightly less gorgeous. Nonetheless, it will live on my "keep" shelf and I look forward to revisiting it one day. In the short term I'm planning to reread The English Patient, to make the connections between the characters that appear in both novels.<br/><br/>A couple of my favourite passages:<br/><br/>"Official histories, news stories surround us daily, but the events of art reach us too late, travel languorously like messages in a bottle."<br/><br/>"They would sit side by side in a Chinese restaurant, empty but for the two of them. Wanting to face each other but wanting to hold each other and having to decide on one pleasure. The intricate choices of desire." <br/><br/>
Review by Paulagraph
16/06/2015
Read first, I believe, in 1996 when I was working on an author project in an English Dept. Graduate Methods class. I may have read it earlier, as I did The English Patient & perhaps others of Ondaatje's prose books. If read earlier, I imagine I read it again in '96. I came away with the opinion that it is my favorite among his novels. Now, rereading, I realize that I remembered almost nothing about it, except that it takes place in Toronto at the time of the building of a signature bridge & then a viaduct to a reimagined waterworks. I also remembered that Caravaggio & Hana from The English Patient appear in it as characters. But, I encountered Patrick Lewis, Clara, Alice Gull, Commissioner Harris, & Nicolas Temelcoff as if "new." Ondaatje leaves gaps in his stories. He doesn't explain everything, even when he makes a move that apparently fills the reader in on what has happened. For example, the incident that killed Alice Gull. I like this, but am now a bit less patient with Ondaatje's lyrical prose. (The poetic quality of his prose was the most frequent criticism of Ondaatje's writing that I encountered when surveying the critical literature in '96. I didn't agree at the time, but have moved closer to that camp, 15 years later.) In the end, the prose largely seduced me once again, however. And seductive is how I've always considered the experience of reading Ondaatje's novels. Seductive, not just because of the language (I love the anecdote that I once came upon in an interview of the author, where he admitted to taking commas in and out obsessively, until a novel has to be wrenched from his hands to be sent off to the publisher. As a poet myself, I very much relate to this mania) but because of his male characters. He writes men that women can fall for, whether these are the "perfect" men for them or not. As for his female characters, although they become more & more real to me from one novel to the next (Hana is a precursor), they don't exert the same power over me. I can leave their presence, whereas, for example, I might really like to stick around Patrick, Caravaggio & Nicolas, for the sheer bad-boy sensuality of it all.