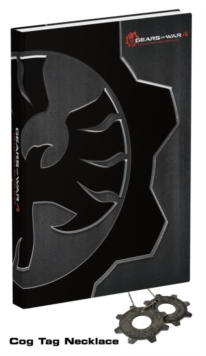 Description
Packed with information and special extras, the Gears of War 4 Collector's Edition Guide by Prima Games is a must-have for any fan of the series. Gears of War 4 plunges you into a harrowing tale of hope, survival, and brotherhood on the war-torn planet Sera as the population struggles to rebuild while facing a new threat. Arm yourself with these additional extras: Ops Crate DLC, Exclusive Tracks from the Game Soundtrack, and a Cog Tag Necklace. Premium Hardcover Book: Featuring gorgeous art, this is a must-have for any fan! 100% Complete Walkthrough: Coverage of all areas and encounters!
Co-Op Strategy included! Multiplayer Coverage: Expert tips and strategies for every mode and map.
Detailed Campaign and Multiplayer Maps: Grab every collectible, locate every objective, and never lose your way!
Gripping Artwork and Riveting Background Content: A must-have for every Gears of War fan!
Free Mobile-Friendly eGuide: Includes a code to access the eGuide, a web-access version of the complete guide optimized for a second-screen experience.
Free Home Delivery
on all orders
Pick up orders
from local bookshops