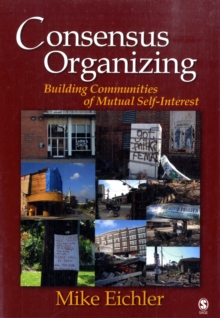 Consensus Organizing : Building Communities of Mutual Self Interest
Paperback / softback
Description
The first new form of community organizing since Saul Alinsky, this book connects the poor to the rest of society.
Written in a logical, teachable, and pragmatic style, Consensus Organizing: Building Communities of Mutual Self Interest is a model of social change for the 21st century.
Through real examples, author Mike Eichler illustrates how anyone can practice consensus organizing and help the poor, forgotten, and disempowered.
Key Features: Makes the experience of consensus organizing come alive: Many illustrative case studies that are both poignant and humorous show readers how key concepts are applied to real-life situations.
The author shares his twenty-five years of experience as a community organizer, including the development of a national effort to train young people as consensus organizers in diverse locations such as Las Vegas, New Orleans, and New York City.
Demonstrates how consensus organizing can be applied to a variety of settings: The impact of cultural diversity on the consensus-building process is presented around a number of crucial issues such as public education, housing, economic development, health, and crime.
This book shows new methods to bring seemingly opposite people together, forming partnerships never before believed possible.
Gives readers an opportunity to learn more about themselves: This text shows a way to help in a style that can bring out everyoneAEs talents and commitment to help others.
Unlike most texts, this book acknowledges the emotions whether conflicting or inspiring that lie behind a commitment to community organizing.
Reflection questions are included to help students prove to themselves that they have the ability to practice consensus organizing.
Intended Audience: This is an ideal core textbook for advanced undergraduate and graduate courses such as Community Organizing, Social Problems, Introduction to Urban Planning, Contemporary Urban Issues, Community Health, and Community Based Policing in the fields of Social Work, Sociology, Planning and Public Administration, Public Health, and Criminal Justice.
It is also a practical, straight-forward guide for anyone interested in a new method of creating social change.
Information
Format: Paperback / softback
Pages: 272 pages
Publisher: SAGE Publications Inc
Publication Date: 06/03/2007
Category: Social welfare & social services
ISBN: 9781412926591
Free Home Delivery
on all orders
Pick up orders
from local bookshops