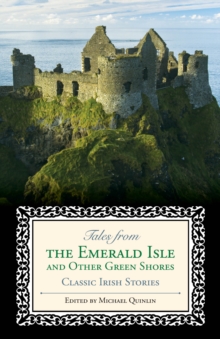 Tales from the Emerald Isle and Other Green Shores : Classic Irish Stories
Paperback / softback
Description
Explore what it means to be Irish with this compelling and uncommon collection of stories. Featuring both famous authors and forgotten ones, these twenty literary gems offer a colorful kaleidoscope of perspectives on the Irish people and their character.
Here are stories of daring patriots and reluctant warriors, magical musicians and young lovers, conniving landlords and hearty peasants, greenhorn immigrants and longtime transplants with an undying love of the old country.
From the hills of Connemara to the streets of New York and the deserts of North Africa, these stories bring to light the odyssey of the intrepid Irish.
They are sure to inspire, entertain, and enlighten-or at the very least, make you smile. With works from:Liam O'Flaherty, Arthur Conan Doyle, William Butler Yeats, Sarah Orne Jewett, George Moore, Frank Mathew, Samuel Lover, Bram Stoker, Katharine Tynan, Ellis N.
Myles, Finley Peter Dunne, T. Crofton Croker, William Larminie, Lady Gregory, William M.
Thackeray, Alexander Young, John McElgun, George A. Birmingham, Kate Douglas Wiggin
Information
Format: Paperback / softback
Pages: 224 pages
Publisher: Rowman & Littlefield
Publication Date: 01/03/2015
Category: Anthologies (non-poetry)
ISBN: 9781493007646
Free Home Delivery
on all orders
Pick up orders
from local bookshops