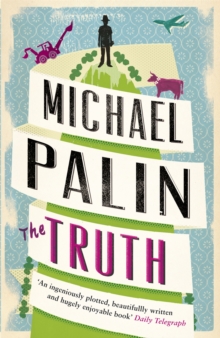 Description
From the inimitable Michael Palin comes the warm and witty story of an everyman, a tantalising offer, a journey to India and the search for the truth.
Includes Reading Group Notes. Keith Mabbut is at a crossroads in his life. When he is offered the opportunity of a lifetime - to pen the biography of the elusive Hamish Melville, a highly influential activist and humanitarian - he seizes the chance to write something meaningful. His search to find out the real story behind the legend takes Mabbut to the lush landscapes and environmental hotspots of India.
The more he discovers about Melville, the more he admires him - and the more he connects with an idealist who wanted to make a difference.
But is his quarry really who he claims to be? As Keith discovers, the truth can be whatever we make it...In this wonderful, heartwarming novel, Michael Palin turns his considerable skills to fiction in the story of an ordinary man on an extraordinary adventure.
Information
Format: Paperback
Pages: 304 pages
Publisher: Orion Publishing Co
Publication Date: 18/07/2013
ISBN: 9780753828120
Free Home Delivery
on all orders
Pick up orders
from local bookshops
Reviews
Showing 1 - 2 of 2 reviews.
Review by alexbolding
16/06/2015
Extremely enjoyable novel and a fast read. I like Palin's style: a touch of understatement and black humour, whilst at the same time creating suspense and pace. I also liked, even admired, his final twist in the plot. Storyline in three parts: (1) exploring and describing the life of failed environmental journalist turned corporate success stories writer, quite comically starting at his farewell reception of a mega oil company in the Shetlands; (2) being coaxed into writing a biographical story on Hamish Melville, a environmental activist and hero, Keith Mabbut (Budmash?) rediscovers his environmental journalist idealism and tricks during a trip to India, where he gets picked up by his hero, is kidnapped by Naxalites, released again by Melville, joins him in a fight against a mega aluminium smelter's plans to explore bauxite in some remote hills destroying the livelihoods of some ethnic groups. After finishing the book, the publisher refuses to accept the heroic, one sided biography, wishing to insert some nastiness of its own fabrication; (3) and that is the start of the most accomplished and final part of the novel, when nothing proves to be what it seemed, and the only one sticking to some kind of unmitigated type of truth is Mabbut himself. The latter culminates through his ultimate refusal to smear the name of Melville, egged on by some (correct) hints by Melville that the publishing house is actually owned by one the worst companies that he is 'fighting' in the Amazone (an agro-industrial, responsible for 2-3% of the chopping of the Amazone forest in Brazil). End of story: Budmash happy for refusing to get his book published, his daughter duped by a conman Iranian refugee, his wife happy with her new husband Rex, the Westminster puppet master, who has helped Budmash on several occasions, and Keith scores a 'blue nose' when trying to seal what was a budding love affair in the Shetlands (too late, the lady in question is already taken by the loud mouthed Scottish manager of the Oil terminal). And then the twist: the Illegitimate daughter of Hamish in the Czech republic running a beauty clinic provides him with a ticket and hotel reservation. Once there Keith meets his hero, Melville, in a bed, bandaged and in a bad state. Hamish has a confession to make: all is not what it seemed – Hamish has been playing both sides, often succumbing for the highest bidder. But the game has changed with the Russian and Chinese entering the scene. The latter are unscrupulous and fight opponents through contract killers and hired thugs, who killed three of Hamish companions. Hamish came out unscathed, but deeply shaken: he wants to opt out. So he is getting a new face in his daughter's clinic and he asks Keith to write his life story, the truth and all. Two months later Hamish Melville gets 'killed' in a mysterious accident in Argentina. Keith publishes his book with the help of 120,000 pounds that Hamish left him, and the book is a block buster (8.5 million copies sold).
Review by Mithril
16/06/2015
Well-written and tightly-paced, with a nice kicker at the end.