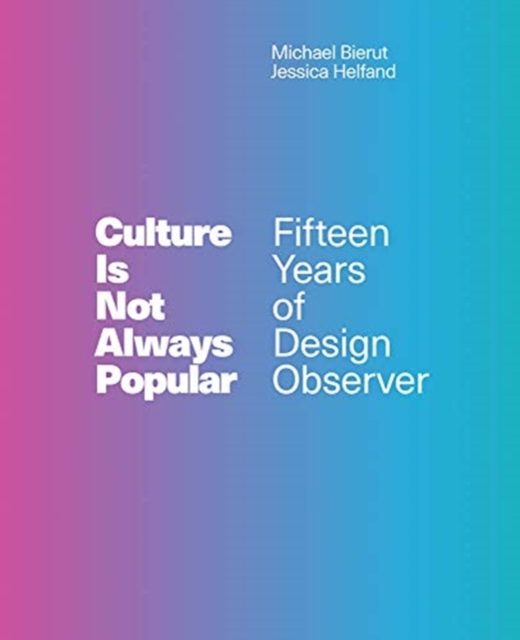 Culture Is Not Always Popular : Fifteen Years of Design Observer
Hardback
Description
A collection of writing about design from the influential, eclectic, and adventurous Design Observer. Founded in 2003, Design Observer inscribes its mission on its homepage: Writings about Design and Culture.
Since its inception, the site has consistently embraced a broader, more interdisciplinary, and circumspect view of design's value in the world-one not limited by materialism, trends, or the slipperiness of style.
Dedicated to the pursuit of originality, imagination, and close cultural analysis, Design Observer quickly became a lively forum for readers in the international design community.
Fifteen years, 6,700 articles, 900 authors, and nearly 30,000 comments later, this book is a combination primer, celebration, survey, and salute to a certain moment in online culture.
This collection includes reassessments that sharpen the lens or dislocate it; investigations into the power of design idioms; off-topic gems; discussions of design ethics; and experimental writing, new voices, hybrid observations, and other idiosyncratic texts.
Since its founding, Design Observer has hosted conferences, launched a publishing imprint, hosted three podcasts, and attracted more than a million followers on social media.
All of these enterprises are rooted in the original mission to engage a broader community by sharing ideas on ways that design shapes-and is shaped by-our lives. Contributors includeSean Adams, Allison Arieff, Ashleigh Axios, Eric Baker, Rachel Berger, Andrew Blauvelt, Liz Brown, John Cantwell, Mark Dery, Michael Erard, Stephen Eskilson, Bryan Finoki, Kenneth FitzGerald, John Foster, Steven Heller, Karrie Jacobs, Meena Kadri, Mark Lamster, Alexandra Lange, Francisco Laranjo, Adam Harrison Levy, Mimi Lipson, KT Meaney, Thomas de Monchaux, Randy Nakamura, Phil Patton, Maria Popova, Rick Poynor, Louise Sandhaus, Dmitri Siegel, Martha Scotford, Adrian Shaughnessy, Andrew Shea, John Thackara, Dori Tunstall, Alice Twemlow, Tom Vanderbilt, Veronique Vienne, Alissa Walker, Rob Walker, Lorraine Wild, Timothy Young
Information
Format:Hardback
Pages:240 pages, 77 color illus., 1 b&w illus.
Publisher:MIT Press Ltd
Publication Date:01/01/2019
Category:
ISBN:9780262039109
Information
Format:Hardback
Pages:240 pages, 77 color illus., 1 b&w illus.
Publisher:MIT Press Ltd
Publication Date:01/01/2019
Category:
ISBN:9780262039109