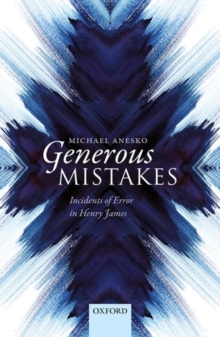 Generous Mistakes : Incidents of Error in Henry James
Hardback
Description
By combining the techniques of textual criticism and the insights of close reading, Generous Mistakes offers new perspectives not only on two of Henry James's major novels (The Portrait of a Lady and The Ambassadors) but also on the process by which they became the books we know-or think we know.
Through a better understanding of the conditions of production that affected James's author function, we achieve a deeper appreciation of thehistorical contingencies of his artistry.
Closely examining new forms of evidence (even fingerprints), Generous Mistakes contends that authorship is a hybrid construction, a sometimes unpredictable sequence of different forms of practice, each of which contributes meaningfully to the texts we read and analyze.
Offering asustained examination of the 'textual condition' of James's work-going beyond the relatively familiar ground of authorial revision-this study brings into sharper focus the complex and sometimes arbitrary factors that contributed to the making of two masterpieces of modern fiction and to the legend of the master who wrote them.
Free Home Delivery
on all orders
Pick up orders
from local bookshops