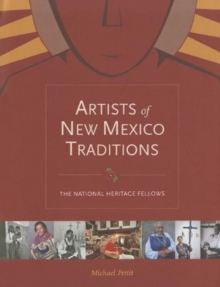 Artists of New Mexico Traditions
Hardback
Description
New Mexico represents a unique artistic heritage evolving from a long and complex history and cross-cultural influences.
Since 1982, fifteen New Mexico artists have been named National Heritage Fellows, the most from any state, recognised for their contributions to the nation's traditional arts heritage.
From the first honouree to the most recent recipient the artists have distinguished themselves through a lifetime of achievement, innovation, and mastering of their craft.
Pettit draws from the lives of these New Mexico artists -- among them potters and weavers, storytellers and musicians -- through interviews with living artists, family members, curators, and others discussing their lives and art.
Portraits emerge, as well, of the villages, extended families, and traditions that are a constant in the lives of these artists.
The profiles are presented in reverse chronological order beginning with the most recent recipient (in 2007) Irvin Trujillo, a seventh-generation Chimayo weaver, and ending with Cordova's famed santero/woodcarver George Lopez, who received the honor in 1982.
Luminaries in 2006 included artist Charlie M Carrillo noted for his religious paintings and carvings made in the santero tradition, and San Juan storyteller Esther Martinez, a linguist and teacher credited for conserving the Tewa language of the northern Tewa pueblos.
Husband and wife Eliseo and Paula Rodriguez of Santa Fe were honoured in 2004 for their artistry and revival of straw applique, a Spanish colonial art form that uses straw to emulate gold leaf in decorations of religious art.
In 2003, the NEA recognized the musical contributions of Hispano musicians, father and son Roberto and Lorenzo Martinez.
Roberto, founder of the ensemble Los Reyes de Albuquerque, was singled out for his original compositions and instrumentals, and Lorenzo, for his virtuoso skills as a violinist.
Other honourees include Frances Varos Graves of Arroyo Seco, an innovator in colcha embroidery.
Influential artisans Emilio and Senaida Romero, honoured in 1987, are known for their craftsmanship and designs in tinwork and colcha embroidery.
Helen Cordero of Cochiti Pueblo was honoured in 1986 for her Storyteller pottery figures which initiated a revival in Cochiti traditional figurative pottery.
In 1984, the NEA-recognized potter Margaret Tafoya, whose work reflected the transformation from utilitarian to artistic art forms in Santa Clara pottery making.
Award winning santero and master silversmith Ramon Jose Lopez was honoured in 1997; and beloved folk musician and storyteller Cleofes Vigil from the San Cristobal valley received the recognition in 1984.
Free Home Delivery
on all orders
Pick up orders
from local bookshops
Also by Michael Pettit