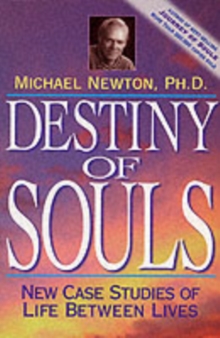 Destiny of Souls : New Case Studies of Life Between Lives
Paperback
Description
A pioneer in uncovering the secrets of life, internationally recognized spiritual hypnotherapist Dr. Michael Newton takes you once again into the heart of the spirit world.
His groundbreaking research was first published in the bestselling Journey of Souls, the definitive study on the afterlife.
Now, in Destiny of Souls, the saga continues with 70 case histories of real people who were regressed into their lives between lives.
Dr. Newton answers the requests of the thousands of readers of the first book who wanted more details about various aspects of life on the other side.
Destiny of Souls is also designed for the enjoyment of first-time readers who haven't read Journey of Souls. Explore the meaning behind your own spiritual memories as you read the stories of people in deep hypnosis, and learn fascinating details about: -Our purpose on Earth-Soul mates and spirit guides-Spiritual settings and where souls go after death-Soul travel between lives-Ways spirits connect with and comfort the living-The soul-brain connection -Why we choose certain bodies
Information
Format: Paperback
Pages: 384 pages, ill
Publisher: Llewellyn Publications,U.S.
Publication Date: 08/05/2000
Category: Reincarnation & past lives
ISBN: 9781567184990
Free Home Delivery
on all orders
Pick up orders
from local bookshops
Reviews
Showing 1 - 4 of 4 reviews.
Review by talltrickster
16/06/2015
Well written follow-up to Journey of Souls, this book is essential for anyone looking to explore the between-life state. Really fascinating, and many people I've recommended both books to who are intuitive found them validating much of what they've felt or seen on their own.
Review by IndigoWings
16/06/2015
Destiny of the SoulsThis is the second book of two that Michael Newton published on his remarkable journey, that shared insights gained from several decades of working with Life Between Lives Clients.This review however is going to be a general review of Both books as it is difficult to separate them.With both books Newton has indicated he has selected Case Studies that reflect a large number of similar experiences he encountered during his more than 7000 cases spanning over 40 years. Providing a good overall view of client experiences to draw information from.I have been studying metaphysical & paranormal concepts along with a variety of spiritual beliefs for many years now. What I found reoccurring with all spiritual authors, gurus, mediums, psychics etc... was that their views were most often based on perception of their experience only. On rare occasion when they did take considerations of the clients experience it was heavily influenced with their original perceptions.With Newton things transpired from a perception of non-belief to curiosity then acceptance based on thousands of experiences he encountered from his client work. As with anyone I can only believe that he has over time created his own perception (albeit largely in part of his work) that may still limit complete unbiased recall of his case studies (or choice of which studies he works with in his limited publications). Overall however, I do find it much easier to accept truth in his writing if for no other reason than the fact that his work is truly no different than any other scientist who is looking to find answers and uses repeat attempts to see if they get the same result or something different. I personally have a pretty solid perception of my 'view of the afterlife' which although is ever evolving, was greatly developed long before I ever read any of Newtons work. What I found with Newton's work was similar to what I have experienced with many books/authors I have come to enjoy over the years. Most of what he writes about were already concepts I had accepted as something that felt right to me before I ever read his work. Making his work more a validation than something I had to find a way to accept. For many people who read books they are not 'ready' for they may experience complete aversion to them, or like myself just not 'feel' the book so after a couple chapters put it aside to try at a later date. When I know a book has something special to offer me in that moment; I almost always find that it offers one of two things to me. Either it answers specific questions I have been asking for guidance on OR it provides validation to things I have been feeling but just wanted to experience from someone else's point of view. Often times it does both as Newton's books do.Mostly providing a lot of validation but also answering many questions I had been recently asking to make sense of.Newton's books may not be for everyone, but for those who have opened their mind/souls to believing there is more to 'life on the other side' than we have been lead to believe and would like another point of view this might be what you are looking for. I do suggest you start with "Journey of the Souls" as it was the first in publication.Michael Newton is currently my favorite author. My only disappointment is that he has not publish his case studies in their entirety for those of use with a more in-depth interest in the matter. Which would allow for greater scientific exploration on the subject. I hope one day he does this.
Review by IonaS
16/06/2015
I have not read Newton's preceding book "Journey of Souls" so I can't compare it with the one under review.In this book the author recounts how he places his clients under deep hypnosis, guides them to the spirit world between lives, and there interviews them about their experiences.The book goes into more detail about the spiritual plane than any other book I have read on the subject, including those by Dolores Cannon.Newton covers various subjects, such as techniques used by the souls to comfort their bereaved partners and family members, including entering into their dreams; ghosts (who are mostly obsessively attached to places, people and events where they can't let go); discarnates who visit Earth; regenerating damaged souls, and so on and so forth.There is always a part of the soul that remains in the spirit world. Highly developed souls, especially, often underestimate the percentage of soul energy they need to take with them into the body and thus run into problems.One piece of information that was completely new to me was that the body, apparently, as far as I understand, has a strong consciousness and can act counter to the intentions of the soul and thus cause problems for the latter. I must admit I don't understand this matter adequately and feel it could have been explained even further and better.There was also for me new information about the birthing of souls. Here is a quote: "My soul was created out of a great irregular cloudy mass. I was expelled as a tiny particle of energy from this intense, pulsating bluish, yellow and white light...." The new souls are taken care of by special helpers and given the "love hug". The soul is brought to an awareness of its existence. Each soul is unique.We learn about cluster groups, the spiritual learning centre. the life books library, and much agout the colour spectrum of spiritual auras. The primary core colours indicate the stage of overall development, but "certain souls carry secondary colours .... called halo colours".A chapter describes the Council of Elders, to which we are summoned for evaluation in two occasions. We are asked how we feel about major episodes in our live and our courses of action. Some of the Elders bear medallions with images designed to remind us of significant episodes from our lives. Sunjects mention the "overwhelming" feeling of a higher force called "the Presence" which they feel to be perhaps not God but deified entities with capabilities superior to those in the council. This higher force influences council meetings.In a subsequent chapter the subject of primary soulmates, companion soulmates and affiliated souls is discussed. But not everything occurring in the spirit world is serious, there are also numerous recreational activities for those interested in these.Newton goes into great depth in his study of the spirit world, the information being absolutely comprehensive but not always easy to digest.There are many levels of soul development, and one thing I realized from the book was that I am not myself as spiritually advanced as I had thought, and perhaps not spiritually advanced at all (ha, ha!) - everything is relative.There is a screening room of future lives so we can get a taste of what is in store for us, and choose between various bodies. In some cases you might choose a body that will die young, and have several choices also as regards manner of death.One thing I can say is that with all the talk of what may happen at the end of 2012, the Shift or the ascension into the fourth or even fifth dimension, and all the uncertainty connected with this, this book had a very relaxing effect on me. Even if I don't make the ascension but my body dies at this time, there is absolutely no cause for worry - the spirit world is an extremely loving and comforting place to visit.I would strongly recommend that you read this book if you're at all interested in the nature of our stay in the spirit world.
Review by DMYates
16/06/2015
I absolutely loved Destiny of Souls. Mr. Newton is a hypno-regressionist who takes his subjects back to their past lives and their lives on the Other Side. His book defines in detail his interviews with his subjects.The book was a fascinating read.