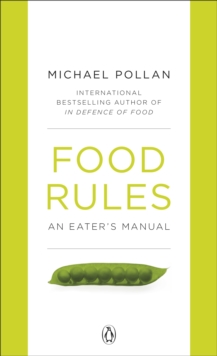 Food Rules : An Eater's Manual
Paperback
Description
In sixty-four bite-sized pieces of advice, Michael Pollan's Food Rules tells you everything you need to know to eat healthily, dine happily and live well.
Eat food. Mostly plants. Not too much. Using those seven simple words as his guide, internationally-acclaimed food journalist Michael Pollan offers this indispensable handbook for anyone concerned about health and food.
Sensible, easy to use and written in plain English, Food Rules is a set of memorable adages or designed to help you eat real food in reasonable amounts, gathered from a wide variety of sources: nutritionists, anthropologists, ancient cultures - and grandmothers.
Whether at the supermarket, a restaurant or an all-you-can-eat buffet, this handy, pocket-size resource is the perfect manual for anyone who would like to become more mindful of the food we eat. 'In more than four decades I have come across nothing more intelligent, sensible and simple to follow than these principles' The New York Times 'Instantly makes redundant all diet books and 99 per cent of discussions around healthy eating ...Sense, at last' Daily Mail, praise for In Defence of Food 'Pollan invites us to grab our pots and pans and cook some real food for dinner' Time Out, praise for In Defence of Food 'Read this witty book for a healthier life and diet' The Times, praise for In Defence of Food Michael Pollan has been writing for over twenty years about the places where the human and natural worlds intersect: food, agriculture, gardens, drugs, and architecture. The Omnivore's Dilemma, about the ethics and ecology of eating, was named one of the ten best books of 2006 by the New York Times and the Washington Post.
He is also the author of The Botany of Desire, A Place of My Own and Second Nature and, most recently, In Defence of Food.
Information
Format: Paperback
Pages: 160 pages, Illustrations
Publisher: Penguin Books Ltd
Publication Date: 13/01/2010
Category: Fitness & diet
ISBN: 9780141048680
Free Home Delivery
on all orders
Pick up orders
from local bookshops
Reviews
Showing 1 - 4 of 4 reviews.
Review by RefPenny
16/06/2015
This brief volume expands on Michael Pollan's mantra - eat food, not too much, mostly plants - with a series of easily understood and often amusing rules. These rules are the distilled common sense of the many people who wrote to Pollan. Some have short explanations but this is definitely not a scientic treatise on nutrition.
Review by Parthurbook
16/06/2015
Not so much a book, more a manifesto. 64 principles to guide our relationship with food - some synthesized from in-depth research (see Pollan's "In Defence of Food"), some a reminder of homespun wisdom learned at your grandmother's knee. It's a map to keep us on the straight-and-narrow, despite Food Inc's best efforts to industrialise what we eat. Well done, nourishing, and sprinkled with wit.
It's not bursting with content, but it's a useful little book which I like to randomly flip through now and then. The short sections serve as gentle reminders about how we should go about making our food choices. It's always worth remembering that 'it's not food if it arrived through the window of your car'. <br/><br/>Which is why I always hitch a ride.
Review by rlangston
27/08/2015
A very quick read with text only on every other page! Mainly aimed at a US market but the points made are valid and worth emphasising elsewhere as well.