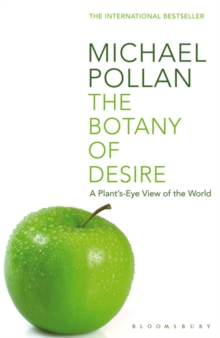 The Botany of Desire : A Plant's-eye View of the World
Paperback
Description
A farmer cultivates genetically modified potatoes so that a customer at McDonald's half a world away can enjoy a long, golden french fry.
A gardener plants tulip bulbs in the autumn and in the spring has a riotous patch of colour to admire.
Two simple examples of how humans act on nature to get what we want. Or are they? What if those potatoes and tulips have evolved to gratify certain human desires so that humans will help them multiply?
What if, in other words, these plants are using us just as we use them?
In blending history, memoir and superb science writing, Pollan tells the story of four domesticated species - the apple, the tulip, marijuana and the potato.
All four plants are integral to our everyday lives and Pollan demonstrates how each has thrived by satisfying one of humankind's most basic desires.
Weaving fascinating anecdote and accessible science, Pollan takes the reader on an absorbing journey through the landscape of botany and desire.
It is a journey that will change the way we think about our place in nature
Information
Format: Paperback
Pages: 320 pages
Publisher: Bloomsbury Publishing PLC
Publication Date: 03/03/2002
Category: Anthropology
ISBN: 9780747563006
Free Home Delivery
on all orders
Pick up orders
from local bookshops
Reviews
Showing 1 - 3 of 3 reviews.
Review by herschelian
16/06/2015
This the most fascinating, thought-provoking book, making us reconsider our own place in the natural world. The author tells the story of four 'domesticated' plants , all have thrived by attapting to satisfy humankind's most basic desires. The book is packed with curious facts, myths, superstitions, just the kind of writing I love. I was left thinking that in the great scheme of things maybe one of my
Review by seanpmurray
16/06/2015
Pollan's mixed salad of history, anecdote, and light science is nutritous brain food. More importantly, it goes down easy. The prose is florid (but never fragrant) and the content never fails to raise an eyebrow or upset a preconceived notion. A quick and worthwhile read.
Review by edwinbcn
16/06/2015
I am no friend of Richard Dawkin's "selfish gene' theory, and therefore have very little sympathy for the idea postulated by Michael Pollan in the opening essay of this book that apples manipulate humans. The essay is a good medium to put forward thought provoking ideas, and provoking ideas can be very interesting, but that does not mean they are necessarily true. Besides, as Pollan adopts this idea from Dawkin,it can hardly be considered a novelty.Nonetheless, Pollan has a lot to say, and has written four very interesting essays, about four plants, three of which, at least, are all very well known to readers. The histories Pollan chooses to describe in relation to each are very interesting, and stick in the mind, for example the story of Johnny Appleseed and American Frontier history.In Pollan's description of his first-hand experience planting Monsanto GM potatoes, it is shocking to learn that these spuds come with a licence, almost like software, spelling out in detail what one may and may not do with those potatoes.I was surprised by the profoundly interesting essay written on marijuana, the longest essay by far, which may betray Pollan's personal interest in this herb.Very interesting, and very well-written.