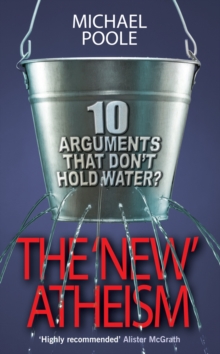 New Atheism : Ten Arguments That Don't Hold Water
Paperback
Description
The new atheists are putting out new books and articles, bus adverts and TV programmes like there's no tomorrow.
They've gained a large amount of public attention and media exposure - but do their arguments really hold water? Using the analogy put forward by the esteemed philosopher Anthony Flew, Michael Poole examines the new atheists' use of the 'ten leaky buckets' tactic of argumentation - presenting readers with a sum of arguments that are each individually defective, as though the cumulative effect should be persuasive. This closer look at the facts reveals that the buckets are, indeed, leaky.
Information
Format: Paperback
Pages: 64 pages
Publisher: Lion Hudson Plc
Publication Date: 23/10/2009
Category: Agnosticism & atheism
ISBN: 9780745953939
Free Home Delivery
on all orders
Pick up orders
from local bookshops
Reviews
Showing 1 - 1 of 1 reviews.
Review by David.Alfred.Sarkies
16/06/2015
While it is good to understand the arguments that Athiests make against Christianity, I do not see Athiesm, or anything that the athiests say, particularly new. Personally, I found this book to be rather dull and simply went over the same ground multiple times but not actually having any specific purpose. That's not to say that what Poole is trying to do is bad, but rather that this is not the type of book that I am really interested in. I guess the only reason I bought it was because it was small, cheap, and looked interesting. While it is objectively small, and was objectively cheap, subjectively I simply did not find it interesting, but then I guess it has more to do with argument rather than trying to prove anything.I like argument: that is putting forward a hypothesis and then exploring the evidence that adds weight to the hypothesis. This book does not do that. Rather it takes another persons argument (in this case Richard Dawkins) and seeks to undermine his arguments at every opportunity. Granted I have not read any of Dawkin's books (as of the writing of this commentary), and I must admit that having read two books like this, my mind has been poisoned against Dawkin's arguments which results in me having no desire to read any of his books (and even then, there are lots of other books that I would rather read than a book whose stated goal is to turn Christians into atheists).I guess this is a good book for Christians who want to be able to know how to debate atheists in such a setting, but personally, I'm not one of those people, and while I believe what I believe, I tend to try and avoid ego contests where two sides try to out do each other with well strung debates which don't end up convincing anybody of anything.