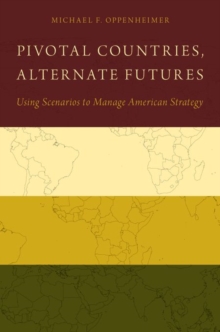 Pivotal Countries, Alternate Futures : Scenario Planning for International Politics
Paperback
Description
Michael Oppenheimer's Pivotal Countries, Alternate Futures is both a synthesis of our knowledge on scenario planning and a practical guide for policymakers. One of America's leading scenario planners, Oppenheimer has advised the Department of State, the Defense Intelligence Agency, the Joint Chiefs of Staff, the President's Science Advisor, the Council on Foreign Relations, and the Brookings Institution.
In this book, he develops a sophisticated and coherent method for foreign policy specialists who necessarily deal with rapidly changing situations involving high levels of uncertainty.
As he explains, figuring out possible outcomes and designing and appropriate policy requires an ability to identify the drivers of change, the potential wild card events, and the central policy questions in any given situation.
Once policymakers determine these, they must plan a scenario.
To do that, planners need to know how to build the best team of experts possible, run a session, and create credible narratives for different scenario alternatives.
To illustrate how it all works, Oppenheimer draws from a range of real-life planning scenarios, including China, Syria, and the Iran nuclear crisis. To be sure, new crises will arise that supplant these current ones, but his basic method will aid policymakers in almost every future situation.
While nothing ever goes completely to plan-least of all international conflict-preparing with multiple scenarios in mind will always be the least worst approach to global and regional crises.
Methodologically rigorous and comprehensive, Pivotal Countries, Alternate Futures will be essential reading for policymakers and policy students trying to determine the best path forward in any given crisis.
Information
Format: Paperback
Pages: 272 pages
Publisher: Oxford University Press
Publication Date: 11/02/2016
Category: Political science & theory
ISBN: 9780199397105
Free Home Delivery
on all orders
Pick up orders
from local bookshops