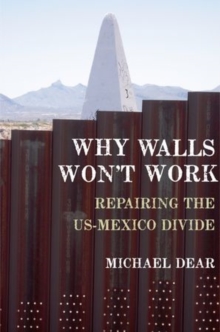 Why Walls Won't Work : Repairing the US-Mexico Divide
Hardback
Description
Today, when one thinks of the border separating the United States from Mexico, what typically comes to mind is a mutually unwelcoming zone, with violent, poverty-ridden towns, cities, and maquiladoras on one side and an increasingly militarized network of barriers and surveillance systems on the other.
It was not always this way. In fact, from the end of Mexican-American War until the late twentieth century, the border was a very porous and loosely regulated region.
In this sweeping account of life within the United States-Mexican border zone, Michael Dear, eminent scholar and co-founder of the "L.A.
School" of urban theory, traces the border's long history of cultural interaction, beginning with the numerous Mesoamerican tribes of the region. Once Mexican and American settlers reached the Rio Grande and the desert southwest in the nineteenth century, new forms of interaction evolved. But as Dear warns in his bracing study, this vibrant zone of cultural and social amalgamation is in danger of fading away because of highly restrictive American policies and the relentless violence along Mexico's side of the border.
Through a series of evocative portraits of contemporary border communities, he shows that the 'third space' occupied byboth Americans and Mexicans still exists, and the potential for reviving it remains. Yet, Dear also explains through analyses of the U.S. "border security complex" and the emerging Mexican "Narco-state" why it is in danger of extinction.
Combining a broad historical perspective and a commandingoverview of present-day problems, Why Walls Won't Work represents a major intellectual intervention into one of the most hotly contested political issues of our era.
Information
Format: Hardback
Pages: 286 pages, 32 line drawings, maps, and photographs
Publisher: Oxford University Press Inc
Publication Date: 07/03/2013
Category: History of the Americas
ISBN: 9780199897988
Free Home Delivery
on all orders
Pick up orders
from local bookshops