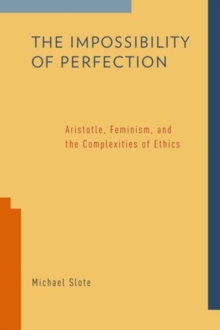 The Impossibility of Perfection : Aristotle, Feminism, and the Complexities of Ethics
Paperback / softback
Description
Most people think that the difficulty of balancing career and personal/family relationships is the fault of present-day society or is due to their own inadequacies.
But in this major new book, eminent moral philosopher Michael Slote argues that the difficulty runs much deeper, that it is due to the essential nature of the divergent goods involved in this kind of choice.
He shows more generally that perfect human happiness and perfect virtue are impossible inprinciple, a view originally enunciated by Isaiah Berlin, but much more thoroughly and synoptically defended here than ever before.
Ancient Greek and modern-day Enlightenment thought typically assumed that perfection was possible, and this is also true of Romanticism and of most recent ethical theory.
But if, as Slote maintains, imperfection is inevitable, then our inherited categories of virtue and personal good are far too limited and unqualified to allow us to understand and cope with the richer and more complex life that characterizes today's world. And The Impossibility of Perfection argues in particular that we needsome new notions, new distinctions, and even new philosophical methods in order to distill some of the ethical insights of recent feminist thought and arrive at a fuller and more realistic picture of ethical phenomena.
Free Home Delivery
on all orders
Pick up orders
from local bookshops