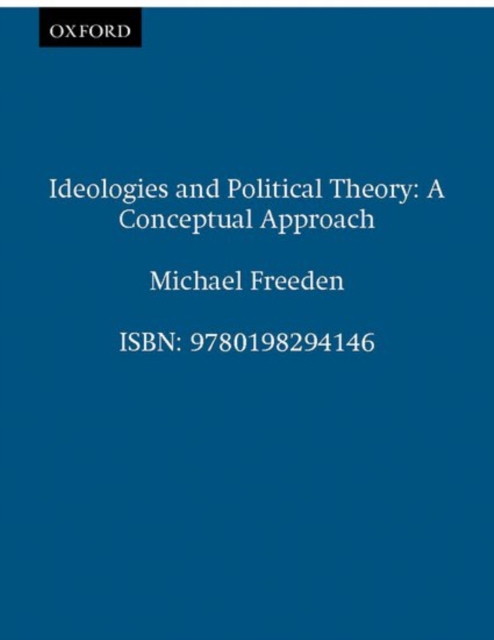 Ideologies and Political Theory : A Conceptual Approach
Paperback / softback
Description
Ideologies play a crucial role in the way we understand and shape the political world.
But no one has yet satisfactorily explained the nature of ideologies themselves.
In this important study, Michael Freeden offers a ground-breaking approach to the subject.
Drawing on the political experience of Britain, France, Germany, and the USA over the past two centuries, the author provides an in-depth examination of the key political ideologies: liberalism, conservatism, socialism, feminism, and green political thought.
He goes on to outline a powerful and sophisticated new theory of ideologies and argues that by paying special attention to the complexity, conceptual inter-relationship, and historical and contemporary context of ideologies we can both better understand them and reinvigorate the study of political theory.
From reviews of the hardback:'What is on offer here is both a highly original and profoundly stimulating analysis of ideological thinking.
Freeden's book will undoubtedly shape and redefine the field of 'ideological studies' as it presently stands, initiating fruitful lines of research for many years to come. . . . There is much to admire in this book.' History of European Ideas 'The approach is immensely illuminating. . . . The outstanding merit of Freeden's work is that he has shown what political philosophy presently lacks, and has done so by demonstrating that ideologies should not be dismissed as merely the 'poor cousins' of philosophies.
Both political theory and political philosophy have a great deal to learn from this book.' Radical Philosophy
Information
Format:Paperback / softback
Pages:604 pages
Publisher:Oxford University Press
Publication Date:30/04/1998
Category:
ISBN:9780198294146
Information
Format:Paperback / softback
Pages:604 pages
Publisher:Oxford University Press
Publication Date:30/04/1998
Category:
ISBN:9780198294146