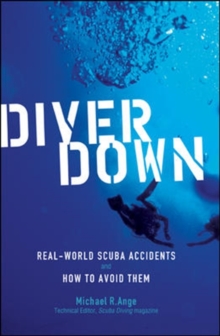 Diver Down : Real-World SCUBA Accidents and How to Avoid Them
Paperback
Description
One diver, after a seemingly brief period below the surface, discovers that his gas supply has run perilously low.
Another, paralyzed, bobs helplessly on the surface, and when a poorly trained divemaster attempts rescue, things go from bad to worse.
Two other divers, fascinated by the bountiful undersea life of the Caribbean, fail to notice that a powerful current is sweeping them rapidly away from their unattended boat. These are just a few of the true stories you'll find in Diver Down, most of them involving diver error and resulting in serious injury or death.
Each of these tales is accompanied by an in-depth analysis of what went wrong and how you can recognize, avoid, and respond to similar underwater calamities.
This unique survival guide explores the gamut of diving situations, including cave and wreck diving, deep-water dives, river and drift diving, decompression sickness, and much more.
It shows you how to prevent tragic mishaps through:Inspection and maintenance of primary and secondary diving gearLearning and following established safety protocolsConfirming the training and credentials of diving professionalsPracticing emergency responses under real-world conditions
Information
Format: Paperback
Pages: 192 pages
Publisher: International Marine Publishing Co
Publication Date: 27/09/2005
Category: Sub-aqua swimming
ISBN: 9780071445726
Free Home Delivery
on all orders
Pick up orders
from local bookshops
Reviews
Showing 1 - 1 of 1 reviews.
Review by koeniel
16/06/2015
Diver Down: Real-World Scuba Accidents and How to Avoid ThemThe recent dive fatality in Thousand Island made me dig out my bookshelves for this book to reread it again. When I first read this book a year ago I thought if I had read it before I learned to dive I would have probably refrained from taking up the sport. The book tells real life stories on scuba diving accidents - many are fatal, resulting in death or permanent injuries to the divers, hence very scary. Is diving really that dangerous? As Michael Ange, who has long history of involvement with the diving industry, explained in the preface of his book, like any adventure sport, diving involves certain risks, and accidents do occur. However, considering all the risks and dangers inherent in the activity, statistics show that diving is quite safe. Compared to the number of safe diving done everyday, the number of accidents is very low. This according to Ange is due to the relative reliability of dive equipments, voluntary self-regulation by scuba instructors and agencies, fairly good procedural training, rigorous accident analysis and the fortitude of the industry's explorers.The majority of dive equipments undergo superb engineering and quality control, hence they are fairly reliable. It is also a thumb up to the industry the way different agencies impose self regulations and build up standard training procedures that insures safety. But according to Ange the key to the relative safeness of the sport is accident analysis. It is a tool used to find and understand the underlying causes of an accident. For example when a diver ran out of air, we can fairly conclude he undoubtedly made error. However an accident analysis goes deeper in trying to understand why he made the error, if he was trained to manage the air conservatively enough or if he was just careless. It is such accident analysis that becomes the basic of 20 short true stories of various diving accidents told in this book. The stories encompass many different situations involving dives in sea, caves, wreck and quarries, from recreational to technical and public safety dives, in the tropic and in cold water, and dives by beginners to professional. The accident causes vary from lack of skill and lack of experience, improper training, neglect of equipment maintenance, taking short cuts, ego and peer pressure, not following dive plans, not listening to briefings and lack of common sense.At the end of each account Ange gives tips to prevent the situation. All of these advices are basically what divers are taught in the trainings and common sense, such as doing refreshment course after a long absence from diving, properly maintain dive equipment, plan the dive and follow the plan, and stow the ego. In short, Ange shows that all these horrible accidents can be prevented by following the training properly and use the common sense.Besides the accident accounts, the book also contains basic information on diving, which is a good refreshment of knowledge. It is also good because what Ange writes does not come from only one specific agency so we can see the diving industry and knowledge from a different perspective. As mentioned above the examples were taken from different dive situations, which gives an Indonesian diver like me who only dives tropical seas a glimpse on different types of diving such as in rivers and quarries.Also in each account there are text boxes containing information pertaining to the type of dive or the accidents. For example in the story of a DCS related accident the author explains in a text box about hyperbaric injuries and chambers, and in a fatal accident involving untrained divers penetrating wrecks he provided a special topic on wreck diving.All in all, this tiny book provides good and sound knowledge and helps to instill an understanding of safety in diving. Even though it's a tad expensive for its size (SGD 30 for a small 210 page paperback) it's well worth it to include in your book collection.