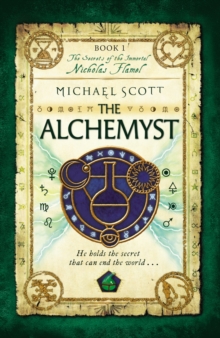 Description
Nicholas Flamel was born in Paris on 28 September 1330.
Nearly seven hundred years later, he is acknowledged as the greatest Alchemyst of his day.
It is said that he discovered the secret of eternal life.
The records show that he died in 1418. But his tomb is empty and Nicholas Flamel lives. The secret of eternal life is hidden within the book he protects - the Book of Abraham the Mage.
It's the most powerful book that has ever existed. In the wrong hands, it will destroy the world. And that's exactly what Dr. John Dee plans to do when he steals it. Humankind won't know what's happening until it's too late. And if the prophecy is right, Sophie and Josh Newman are the only ones with the power to save the world as we know it.
Sometimes legends are true. And Sophie and Josh Newman are about to find themselves in the middle of the greatest legend of all time.
Information
Format: Paperback
Pages: 400 pages
Publisher: Random House Children's Publishers UK
Publication Date: 05/08/2010
Category: Adventure
ISBN: 9780552562522
Free Home Delivery
on all orders
Pick up orders
from local bookshops
Reviews
Showing 1 - 4 of 4 reviews.
Review by elliepotten
16/06/2015
I think I've just found my new <i>Harry Potter</i>! If the rest of Scott's <i>Nicholas Flamel</i> series turns out to be as good as this, I will be a very happy reader... It opens with Sophie and Josh, fifteen year-old twins living and working in San Francisco, being inadvertently caught up in a magical battle between a dapper stranger and Josh's usually laid-back boss, bookseller Nick Fleming. Nick's wife Perry is snatched away by the sinister man's unnatural henchmen, along with a mysterious book, and though they can hardly believe their eyes, the twins stand their ground to help their friend escape.Fleeing the scene, Nick reveals his true identity to the twins. He is Nicholas Flamel, the famous alchemist, and he and his wife Perenelle are immortal thanks to the knowledge contained in the Book of Abraham the Mage, also known as the Codex. The evil man is John Dee, who has been searching for the book for hundreds of years. As well as the secrets of alchemy and immortal life, the book contains hundreds of other prophecies and spells, which Dee intends to use to bring back the Dark Elders, a fearful race of god-like beings exiled from the world centuries ago. The only hope for humanity - and Perenelle - is a pair of twins who appear in the book's prophecies, representing Sun and Moon, gold and silver. Sophie and Josh's lives are about to change forever...It's really quite a complex story, and I loved it! The action never lets up for a moment, and as the novel goes on the reader is introduced to more and more characters, and more and more magical lore. Scatty, an ancient warrior who looks (and behaves!) like a feisty teenage girl, joins the group and becomes one of the main characters. Some of the Elders are introduced, including Hekate, an immensely powerful woman who lives in a giant tree and ages from a young girl to an old lady each day, and the Morrigan, also known as the Crow Goddess. All kinds of mythical heroes and creatures are woven into this new world, creating an entire alternate history of the Earth rich in philosophy and steeped in magic.As I mentioned earlier, reading <i>The Alchemyst</i> reminded me very much of my first reading of <i>Harry Potter and the Philosopher's Stone</i>. After the initial chapter, where I wondered what on earth was going on, I was completely swept away. Like Harry Potter, a huge part of the book's draw comes from the revelation of the wonders of an entirely new magical world existing alongside our own, surprising the human protagonists and the reader alike. The plot is exciting and fast-paced, bringing new allies, adversaries and experiences at every turn.I can't wait to get started on the next book in the series, <i>The Magician</i> - and I highly recommend this to any of the post-Potter generation who fancy adding a little magic back into their lives!
Review by tanya.pappas
16/06/2015
I am truly starting to like this new series. I like how it deals with Nicholas Flamel's life and the world hidden of mythological creatures. It has many interacting creatures that are known by many names of different cultures and nations. I love this book and want to see what the next book holds! What will become of the Twins? At times it was hard to keep the certain names straight. Overall this becoming better and exciting.
Review by writercity
16/06/2015
I just picked up this book and had no idea what a powerfully active adventure it would turn out to be.
Review by jadedlioness
27/01/2016
I've always been interested in this book and finally got a copy off of bookmooch. I enjoyed it more than expected although as it is written for younger readers there are a few plot holes that I keep grring at. I'll see where it goes.