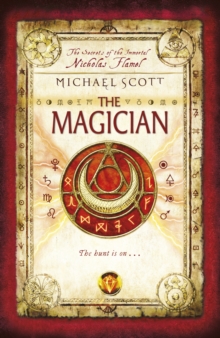 The Magician : Book 2
Paperback
Description
Ashes to ashes . . . California: The book of Abraham the Mage holds the secret of eternal life - a secret more dangerous than any one man should possess.
Dr. John Dee is two pages away from the knowledge that would bring the Dark Elders into ultimate power - and could mean the destruction of the world as we know it. Two people stand in his way: Josh and Sophie Newman. Paris: Time is running out for Nicholas Flamel and his wife Perenelle.
Every day they spend without the book, they age one year: their magic becomes weaker and their bodies more frail.
Niccolo Machiavelli, immortal author and celebrated art collector, works for Dee and is in hot pursuit of them - Flamel knows there's no time to lose and Sophie must learn about Fire Magic... Josh and Sophie are the world's only hope. If they don't turn on each other first.
Information
Format: Paperback
Pages: 496 pages
Publisher: Random House Children's Publishers UK
Publication Date: 05/08/2010
Category: Adventure
ISBN: 9780552562539
Free Home Delivery
on all orders
Pick up orders
from local bookshops
Reviews
Showing 1 - 1 of 1 reviews.
Review by elliepotten
16/06/2015
The second book in Scott's <i>Nicholas Flamel</i> series, this picks right up where <i>The Alchemyst</i> left off. Immortal Nicholas, warrior Scathach and twins Sophie and Josh have escaped through a leygate to Paris, leaving Dr John Dee thwarted and fuming in San Francisco. Unfortunately for the exhausted group, Dee's fellow servant of the Dark Elders, Niccolò Machiavelli, is currently ruling the politics and police of Paris, and he's all too willing to join forces with his old rival to further their mutual goal of returning the Elders to power. Meanwhile, Flamel's wife Perenelle is still imprisoned on Alcatraz, guarded by a fearsome sphinx - will she escape and rejoin her husband? Will Sophie learn the next elemental magic she needs to survive, and will Josh's own magical ability finally be Awakened?This is the next installment in what promises to be an epic battle between good and evil, set against a complex backdrop of myth and magic. It is fast paced and enthralling reading, the likes of which I haven't experienced since the Harry Potter phenomenon took flight. The places are genuine (for instance, this book takes us into the macabre Catacombs of Paris) and the characters are fascinating figures from history and legend, which added even more interest and sent me rushing off to the computer a few times to find out more. Joining Machiavelli as a new face in this installment, for instance, are the Comte de Saint-Germain, Joan of Arc, the Valkyries and Mars, God of War. That's quite a cast! I found it gratifying that few of the characters are entirely good or bad, and enjoyed seeing how the good characters' darker sides manifested themselves, and how the villains unexpectedly allowed their humanity to shine through every once in a while. It is that uncertainty that proves all the more gripping as the battle rages on. All in all, fantastic stuff - I couldn't put the book down and I think this is going to be one of those series I never want to end!
Also in the The Secrets of the Immortal Nicholas Flamel series | View all