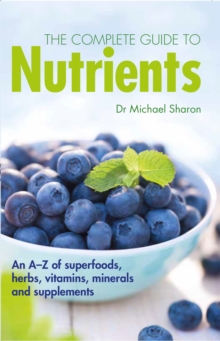 The Complete Guide to Nutrients : An A-Z of Superfoods, Herbs, Vitamins, Minerals and Supplements
Hardback
Description
Dr Michael Sharon gives straight-talking, informed and sensible advice in this invaluable A-Z reference that helps you understand the active benefits of the foods, herbs, vitamins and minerals needed for optimal health and well-being.
It enables you to take matters back into your own hands and use foods and supplements as a way to stay healthy and cope with illness and everyday stress.
In this helpful dictionary, you will encounter the most common everyday foods, such as kale and almonds, as well as the oldest natural medicines in the world, such as olive oil and yoghurt, and nutritional supplements from guarana to St John's Wort.
Each entry gives a definition in plain English - what it is, where it comes from, the form it takes, how to prepare it; medicinal health benefits and a recommended daily dose.
Information
Format: Hardback
Pages: 352 pages
Publisher: Welbeck Publishing Group
Publication Date: 12/01/2017
Category: Diets & dieting
ISBN: 9781780979045