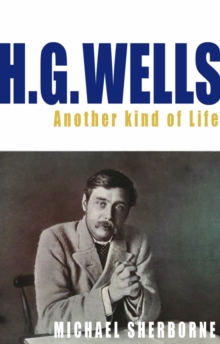 H.G. Wells : Another Kind of Life
Paperback
Description
This monograph is the culmination of the author's 35 years of research into the life and work of H.G.
Wells and sheds new light on the controversies which tainted Wells's life and legacy.
Information
Format: Paperback
Pages: 412 pages
Publisher: Peter Owen Publishers
Publication Date: 01/04/2012
Category: Biography: literary
ISBN: 9780720613919
Free Home Delivery
on all orders
Pick up orders
from local bookshops
Reviews
Showing 1 - 1 of 1 reviews.
Review by baswood
16/06/2015
H G Wells was prolific: from 1895 when his first novel [The Time Machine] was published until his death in 1946, he published over 110 books. Many novels, even more political tracts, an outline history of the world, social commentary, biographies, autobiographies and text books. He collaborated on film scripts, attempted to write plays, wrote many articles as a journalist and fired off letters to anybody and everybody. He was politically active nearly all his life; sitting on committees, writing articles for the Fabians, for the Labour party, standing for Parliament, visiting world leaders; Roosevelt, Churchill, Stalin and Lenin, in an attempt to get his ideas for a League of Nations off the ground. He became a celebrity and used his status as such to publicise his views on racism, contraception, socialism, human rights. Newspapers were always willing to give him a platform and what he had to say sounds progressive, largely fair minded and usually controversial for the times. His celebrity status made him a magnet for women and he indulged in many affairs of the heart, the most renowned of these often lasting for over a number of years, with many of his lovers still friendly with him when the passion had dissipated. He married twice and was on good terms with both his wife and his ex. He was a generous man looking after all his children both legitimate and illegitimate and was supportive of friends and colleagues, much of his wealth had been given away by the time he died.Wells is a big subject for any biographer and Michael Sherborne gives a thoroughly readable account of his life and times. Sherborns says of Wells as a biographer:<I>"Like many biographers Wells adopted a slightly critical tone towards his subject"</I> (Wells published a biography of Sanderson; the headmaster of Oundle school to raise money for the school), but Sherborne largely avoids this in his own biography of Wells. It is by no means a panegyric, but I got the feeling that Sherborne finds plenty to admire in Well's industry, courage, progressive views and artistry. He comments on most of Well's publications largely following the perceived opinion that most of Wells best fiction was published in his early career certainly up to [The New Machiavelli] in 1910, however where there is a return to form or a novel of interest during the later years then Sherborne highlights this for the reader. He has many good things to say about Wells' [The Outline of History] published in 1921 and Wells still had plenty to say that was relevant socially and politically after that. H G Wells long career as a writer straddled the Victorian novelists and the modernists, and he was genuinely friendly and admired by leading authors of both groups. His novels suffered in later years from too much message (or political ranting) and not enough character or plot development and so he started to become a bit of an anachronism, which was in stark contrast to his early years as the leading exponent of the new science fantasy genre. Sherborne provides enough analysis of Wells accomplishments as a writer to enable the reader to understand his place in the cannon and also to understand why he is now a writer "out of fashion".In this well rounded portrait there is plenty of room for Sherborne to tell us about Well's love life. Christopher Priest says in an introduction that "Women were drawn to him - one said his body smelt irresistibly of honey" He seemed to have a fascination for and be fascinated by women of strong character particularly authors and I get the feeling that Wells liked to share, his talent and his artistry, he wanted to be stimulated mentally as well as physically. He also loved an audience.Sherborne acknowledges his debt to previous biographers and has obviously read widely in these secondary sources, which are duly noted. I am not sure how much original research has been undertaken as there certainly does not seem to be any revelations. I think the book is all the better for this lack of sensationalism. What we have is an excellent biography of a man who lived much of his life in the limelight. but in addition there is much good stuff on his development as an artist and his place in literature and public life. A 4.5 star read for me.