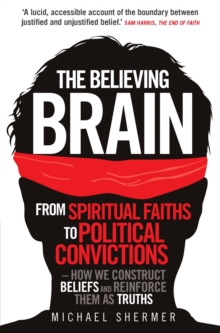 The Believing Brain : From Spiritual Faiths to Political Convictions - How We Construct Beliefs and Reinforce Them as Truths.
Paperback
Description
Synthesizing thirty years of research, psychologist and science historian, Michael Shermer upends the traditional thinking about how humans form beliefs about the world.
Simply put, beliefs come first and explanations for beliefs follow.
The brain, Shermer argues, is a belief engine. Using sensory data that flow in through the senses, the brain naturally looks for and finds patterns - and then infuses those patterns with meaning, forming beliefs.
Once beliefs are formed, our brains subconsciously seek out confirmatory evidence in support of those beliefs, which accelerates the process of reinforcing them, and round and round the process goes in a positive-feedback loop.In The Believing Brain, Shermer provides countless real-world examples of how this process operates, from politics, economics, and religion to conspiracy theories, the supernatural, and the paranormal.
Ultimately, he demonstrates why science is the best tool ever devised to determine whether or not our belief matches reality.
Information
Format: Paperback
Pages: 464 pages
Publisher: Little, Brown Book Group
Publication Date: 20/12/2006
ISBN: 9781780335292
Free Home Delivery
on all orders
Pick up orders
from local bookshops
Reviews
Showing 1 - 1 of 1 reviews.
Review by psiloiordinary
16/06/2015
A great book on the way people believe things. Should form part of your owners manual for your brain to help you improve performance and spot malfunctions before they cause too much damage. In a nutshell people* believe something first and then rationalise the reasons why they have the belief later. Tons of evidence given supporting this. Get over it. Well actually, rise above it and change your thinking and belief patterns. It can change your life. * that is you and me.I do have a quibble. Nothing to do with the Psychology. Shermer's own politics is on the far right of US politics ( in terms of size of government and market regulation anyway ) but he seems to under the impression that human politics can be assessed in reference only to the US . He seems to think that the US left and right equate to human left and right. History and current affairs ( outside of the US ) reveals the US right and left as the far right and the right of humans. But then I would say that wouldn't I. My left of centre views are regularly described by the US "right" as "communist" but then they never let the facts get in the way of a favoured belief do they?