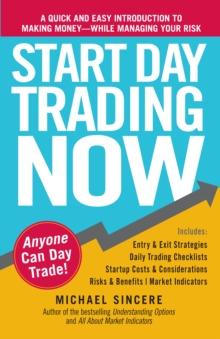 Start Day Trading Now : A Quick and Easy Introduction to Making Money While Managing Your Risk
Paperback / softback
Description
Are you intimidated by day trading? Think it's only for the select few who are savvy with stocks or are financial savants?
Well, think again, because anyone can master day trading--and once you learn the basic techniques, it's possible to make a boatload of money!
The flip side: if you don't know what you're doing, you can lose your shirt. In this entry-level guide to day trading, MarketWatch columnist and financial journalist Michael Sincere assumes you know nothing.
Zip. Zero. Inside, he shows you how to get started and breaks day trading down by clearly explaining:What computer equipment you'll needHow much money is requiredThe technical jargon of day tradingKey strategies you'll employ while tradingHow you can manage risk Most important, Sincere lets you in on the biggest secret of all: how to master the mind game of day trading. Thousands of day traders have watched their bank accounts balloon thanks to Wall Street.
Now you can get into the market and enter their coveted ranks.
Information
Format:Paperback / softback
Pages:224 pages
Publisher:Adams Media Corporation
Publication Date:18/03/2011
Category:
ISBN:9781440511868